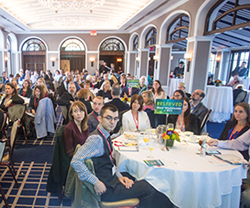 New York, NY (PRWEB) November 18, 2016
The winners and honorable mentions of min's 2016 Editorial & Design Awards were honored at an intimate breakfast in New York City on Thursday, November 10. The program, which has operated for more than ten years, honors the industry's best achievements in content and design from the past year.
min received well over 300 entries this year in more than 40 categories from consumer, B2B, association and digital native brands. Categories ranged from one-off efforts like "Best Single Article" to broader recognitions such as "Single Magazine Issue."
Throughout the ceremony in New York City, min also inducted seven accomplished individuals into min's Editorial & Design Hall of Fame. Honorees hailed from near and far, representing brands like Entertainment Weekly, Consumer Reports and Glamour Magazine.
View the full list of winners, honorable mentions and hall of famers.
Congratulations to the 2016 Editorial & Design Award Winners:

Advice Column: Hearst Magazines/Redbook, What Doctors Tell Their Friends
Best E-Newsletter: NBC News, "First Read" by Chuck Todd, Mark Murray and Carrie Dann
Blog: NBC News Digital, Decision 2016
Breaking News Coverage: Time Inc., People's Coverage of Orlando Shooting at Pulse Nightclub
Cover Design (B2B): Rotary International, February 2016
Cover Design (B2C): Time Out North America, Hidden NYC
Cover Illustration: Rotary International, August 2016
Custom Publication: Story Worldwide, Endless Vacation Summer 2016
Custom Publication Design: AARP The Magazine, AARP "The New Retirement"
Digital Magazine Edition: IEEE Computer Society, IEEE Computer Society: IEEE Security & Privacy
Feature Section/Design: Live Happy, Play is the Thing
Feature Article: Weight Watchers Magazine, I Am Beautiful
How-To/Instructional: Hearst Magazines/Redbook, The Complete Field Guide to Summer Fun
Investigative: ESPN The Magazine, The Patriot Way
Logo Design/Redesign: Pacific Standard
Magazine Design/Single Issue (B2B): Pragmatic Marketing, Pragmatic Marketer (Summer 2015)
Magazine Design/Single Issue (B2C): Playboy Magazine, July/August 2016
Magazine Redesign (TIE): Time Inc./GOLF
Magazine Redesign (TIE): WardsAuto/Penton (Wards Auto – Dealer Edition)
Media Kit or Marketing Materials: Grand View Media, Media Kit Sites
News Coverage: Hearst/Marie Claire, Escape from Boko Haram
Online Column: Hearst Magazines Digital Media, Esquire.com's Politics with Charles Pierce
Opinion/Commentary: Refinery29, Dealing with the Emotional Aftermath of Black Death
Photo Gallery: AARP The Magazine, October/November 2015, "A Day in the Life of the American Caregiver"
Photography Spread: Entertainment Weekly, Game of Thrones Season 6
Photojournalism: ELLE/Elle.com & LaToya Ruby Frazier, Flint is Family
Print/Online Coverage of a Single Topic: ESPN The Magazine, Beyond the Breach
Profile or Q&A: The Philanthropy Roundtable, Interview with Eva Moskowitz
Repacking of Archived Content: Farm Journal Media, 2016 Strategic Marketing Planner E-Book
Series (TIE): Kiplinger Washington Editors, Kiplinger's Series on Women & Money
Series (TIE): Meredith Corporation/PARENTS, Fear and Parenting in America
Single Article (Online): Consumer Reports, What You Don't Know About Your Doctor Could Hurt You
Single Article (Print): O, The Oprah Magazine, "The Storm Inside," February 2016
Single Magazine Issue (B2B): Rotary International, February 2016
Single Magazine Issue (B2C – TIE): Entertainment Weekly
Single Magazine Issue (B2C – TIE): W Magazine, September 2016
Special Section/Microsite: Marie Claire, Women and Guns: The Conflicted, Dangerous and Empowering Truth
Technical Article: Spafax, "One Good Idea Deserves Another"
Use of Social Media: Harvard Business Review
Video Program: Time Inc./GOLF, A Beautiful Game: Golf and Life in Rio de Janerio
Visual Storytelling/App: Refinery29, 9 Stunning Photos of Differently Abled Women Taking Back the Beach
Website Design: Code and Theory, The Scene
Website Redesign: Code and Theory, WWE.com
Congratulations to the 2016 Hall of Fame Honorees:

Myrna Blyth, Editorial Director, AARP Media
Kim Cheney, Managing Editor, Redbook/Woman's Day
Randall Lane, Editor, Forbes Magazine
Tim Leong, Creative Director, Entertainment Weekly
Paul Ritter, Creative Director, Glamour
Diane Salvatore, EIC, Consumer Reports
Matt Strelecki, Creative Director, Meredith Agrimedia
About min:
min is the industry's trusted source on the consumer and b2b magazine business, reaching thousands of media executives through print, online and in-person events. For more than 60 years, min has been serving the magazine and media community with unparalleled coverage of this ever-changing industry. For more information, visit http://www.minonline.com.