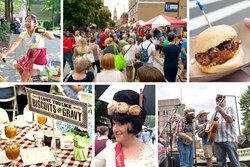 The International Biscuit Festival looks to expand brand participation to include biscuit ingredients, condiments and other accoutrements, such as butter, jams, chicken, mayonnaise, pickles, coffee and more. Lifestyle &services brands also are a good fit.
Knoxville, TN (PRWEB) November 18, 2016
The International Biscuit Festival, named one of the Best Food Festivals in the U.S. by National Geographic Traveler, today announced sponsorship opportunities for the 2016-2017 season. Now in its eighth year, the Festival attracts close to 25,000 biscuit lovers and more than 100 of the best food writers in the country, making it an optimal engagement opportunity for national and regional consumer, lifestyle and services brands. Sponsorships are open now February 15, 2017.
"The Biscuit Festival and its related events consistently draw thousands from throughout the Southeast to celebrate the best of biscuits and Southern food culture," says organizer John Craig, known at The Biscuit Boss. "We are situated in the foothills of East Tennessee, but we draw families of all ages from throughout the region, including a number of cities within a 3-4 hour driving distance, who want to join in the fun."
For brands, the Biscuit Festival's unique geographic position is attractive. Unlike most other Southeastern cities, Knoxville attracts visitors from 10 key market demos:  Nashville, Chattanooga, Huntsville, Birmingham, Atlanta, Charleston, Asheville, Charlotte, Durham/Chapel Hill and Louisville, KY. This gives brands an opportunity to reach a greater audience through one activation, making the Festival a prime place for new product launches, samplings and other interactive experiences.
"We can accommodate all types of brand integrations," says Chadwick Boyd, who is in charge of brand partnerships for the Festival. "The Biscuit Festival's Biscuit Boulevard is a wide, concentrated area off Knoxville's Market Square providing strong, consistent traffic throughout the entire day. Our team is accustomed to working with brands and their specific needs, ensuring easy and painless setup and an overall quality experience," Boyd explains.
This year, the International Biscuit Festival looks to expand brand participation to include biscuit ingredients, condiments and other accoutrements, such as butter, jams, chicken, mayonnaise, pickles, coffee and more. "Lifestyle and services brands are also a good fit, like auto, mobile, travel and credit card categories," adds Boyd. Lipton, Pillsbury, Dewshine, Southern Biscuit, Whole Foods Market, Southern Living, King Arthur Flour and other large-scale brands have been part of the Festival experience.
In addition to Biscuit Boulevard, the Festival includes other components and events ideal for sponsorship:

The Biscuit Baking Contest, presented by Southern Biscuit, is a full day of live baking competitions and cooking demonstrations with entrants from around the country and notable food personalities on the main stage. Sponsor opportunities include bake/cookware, equipment, ingredients, the demo stage, prize giveaways and more.
The Southern Food Writing Conference, presented by White Lily, is an intimate two-day conference that gathers more than 100 of the nation's most respected journalists, magazine and digital editors, television producers, authors, chefs and food enthusiasts to share personal stories and perspectives on writing, food and Southern culture. It is supported by Blackberry Farm, VisitKnoxville and the John Besh Foundation, and is considered one of the most engaged, insightful conferences for this community. This year, a "Taste of the South" Marketplace is being added to provide conference attendees and participating brands an even higher quality experience. Sponsorship categories include food and beverage products, retail, travel, transportation, wine and spirits, and other services.
The Biscuit Bash is a 300+ person book signing and live music experience with some of the best known cookbook authors and music artists in the Southeast. It serves as the official pre-Festival kick off. Sponsorship opportunities include wine and spirits, food/catering, hospitality, travel and services, like airlines and credit cards.
The "50 States of Biscuits," the Festival's latest initiative, is an online series presented by Great American Country and supported by White Lily that showcases the best biscuits in every state. Members of the Southern Food Writing Conference community contribute to the series each week, offering an inside look at recipes, photos, and interviews from biscuit makers around the country. Sponsor opportunities include biscuit ingredients, condiments, retail and more.
Because of its beloved subject matter, the Biscuit Festival now provides year-round engagement. Festival-goers, Conference alumni and social followers constantly share stories, recipes, photos and missives in print and online. Last year alone, more than 200 million impressions were generated from publications Food52, Huffington Post, TheKitchn, Garden & Gun and more, showing what the Biscuit Festival has known from the very beginning: "who doesn't love a biscuit?"
Sponsorship packages and other details can be found at http://www.biscuitfest.com/partners. To discuss becoming a sponsor for the 2016-2017 Biscuit Festival season, contact Chadwick Boyd at inquiry(at)lovelyanddelicious.com.
# # #
About the International Biscuit Festival
Founded in 2009, the International Biscuit Festival attracts close to 25,000 biscuit lovers, food writers, James Beard-winning chefs and artisans from throughout the Southeast. Held in downtown Knoxville, Tennessee every May, it is the only festival in the United States solely dedicated to celebrating biscuits. Key events include the Southern Food Writing Conference, the Biscuit Bash, the Biscuit Baking Contest, the Ms. And Mr. Biscuit Pageant, the Biscuit Art Exhibition and the Biscuit Songwriting Competition. Since its inception, the Festival has partnered with presenting sponsor Scripps Networks Interactive to support food-related charities, such as No Kid Hungry. More information can be found at http://www.biscuitfest.com. Follow along on Facebook, http://www.facebook.com/biscuitfest and http://www.facebook.com/SouthernFoodWritingConference, or on Instagram and Twitter, @biscuitfest and @sofoodwriting.