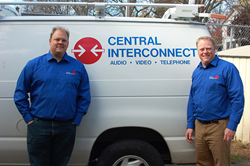 We will carry on the tradition of providing customized solutions with high quality components and smart engineering -- Neil Brown, President.
Grand Rapids, Michigan (PRWEB) November 28, 2016
Two Grand Rapids-area men have purchased Central Interconnect Inc. from local audiovisual guru Arlen Smith and have launched a strategy to expand the company's business throughout the western half of lower Michigan.
Neil Brown, 41, and Wade Thompson, 40, purchased the professional A/V, sound, and communication systems company from Smith with an eye to double annual revenues from the current $5 million level within 5 years with expanded offerings in products and services. Smith founded Central Interconnect in 1981 to provide A/V services that he found lacking when he moved to Grand Rapids from his hometown of Detroit.
"Anyone involved in either specifying or buying A/V systems in West Michigan knows of Arlen and the great organization that he has built over the years," said Brown, Central Interconnect's new president. "As Arlen enjoys his well-deserved retirement, we are extremely pleased to carry on Central Interconnect's tradition of providing customized solutions for our clients by using high quality components and smart engineering."
Terms were not disclosed for the buyout that was brokered by Max Friar, managing partner of Calder Capital LLC in Grand Rapids.
With 28 full-time employees, Central Interconnect has a staff of engineers and systems designers who are skilled at integrating commercial-grade components from more than 100 brand name manufacturers into customized and affordable solutions for corporations, governments, religious and educational institutions, and non-profit organizations.
Central Interconnect designs, installs and continues to maintain projects as varied as the building-wide communications system used by the Kent County Department of Human Services, ChoiceOne Bank in Sparta, the pavilion at Roselle Park in Ada, Forest Hills Fine Arts Center, Alpine Township Fire Department, St. Mary Magdalen Parish in Kentwood, courtrooms for several courts and the Grand Rapids office of the MLive Media Group.
"We work within our customers' budgets to come up with right-sized and robust solutions for applications that can range from a performance hall to a meeting room in a law firm," said Thompson, Central Interconnect's new vice president. "Most importantly, our customers know that we'll be around to back up our warranties and maintain what we build for years to come."
Central Interconnect has radio-dispatched service technicians, trucks, tools, test equipment and a complete stock of repair parts to react quickly to problems and minimize downtime. The company's installation technicians are factory trained and certified for the franchised products it sells.
One of the biggest challenges for the company is educating potential clients about the pitfalls of blindly comparing prices of components such as large flat screen TVs or audio amplifiers available on the internet with commercial grade components that Central Interconnect uses in its designs.
"I can't tell you how many customers have mentioned that they can buy something like a 70-inch flat screen TV for under $1,000 online as a way to cut costs," Brown said. "But it's critical to factor in what demands will be placed on the unit. TVs that are sold retail may be rated to operate only 7 hours a day. That can be a real problem if the unit has to operate 16 hours a day or in an especially demanding situation."
For customers that only have occasional need for audiovisual equipment, Central Interconnect rents out commercial grade projectors, large screens and portable sound systems and equipment.
The internet has opened a whole world of new possibilities that Central Interconnect is tapping to reduce costs and improve communications for its customers, Thompson said. For example, the company designs and installs seamless videoconferencing systems that can help to reduce travel costs between a headquarters and satellite offices. The company's digital signage systems can allow customers to easily change messages and graphics at remote locations from a central site.
As part of its marketing strategy, Central Interconnect is in the process of updating its website, redesigning its logo and reassessing its service and product offerings. For more detailed information, interested individuals should access the Central Interconnect website at http://www.centralinterconnect.com