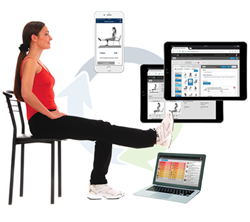 "(In Hand Health's) approach is unique. Both the web app and mobile app for In Hand Health clinician as well as patient-user are very well built out." - Dr. Ben Fung, UpDocMedia.
Overland Park, KS (PRWEB) November 22, 2016
In Hand Health released a new version of its patient engagement solution for physical therapy today.
In Hand Health provides physical therapists (PTs) and their practices with HIPAA-compliant telehealth tools that keep patients and PTs connected between sessions.
With today's new version, the company introduces a new app (Therapist Essentials) that PTs use on their smartphones to create video exercises. PTs send the videos securely to a specific patient and remotely track the patient's exercise activity between visits.
The updated solution also includes a new subscription service (Continuing Care(tm)). PTs use the subscriptions to extend services beyond sessions in their clinics and monetize their time with patients between visits.
>> Solution Designed to Help PT Practices Adapt to Changes in Healthcare
"PT practice owners recognize the current situation is not sustainable for their businesses over the long term in today's healthcare landscape," said Michael J. Gassman, President and CEO of In Hand Health. "Large deductibles are preventing patients from completing their care. Practices jam their schedules and spend less time with each patient to offset reduced reimbursements. Our solution provides a method for breaking this cycle and ensuring quality PT care for patients and extra revenue for practices."
The In Hand Health solution also enables PT practices to respond to a shift in patient attitudes. More people have access to healthcare insurance than ever before. Insurance plans covered most payments and details in the past. But now, patients are paying more out of pocket and thus expecting more too.
"Many PT practices recognize they must adapt to the patient as a customer rather than a consumer to deliver services that increase the value of the therapist-patient engagement," said Mike Novosel, Vice President, Sales of In Hand Health. "Our solution is ideal for any PT practice that is looking to meet the expectations of today's patient while preserving its high level of physical therapy care."
>> Bringing Telehealth and eCommerce to Physical Therapy
In Hand Health built the solution with asynchronous (store and forward) telehealth technology. The solution is compatible across a wide variety of computers and mobile devices (iOS and Android).
Today's release includes four components that work together to deliver physical therapy in a new way:

Physical Therapy In Hand: A SaaS-based application PTs use to build video-based home exercise programs, send HIPAA compliant messages, and monitor patient adherence to care plans when they are at home.
In Hand Health Patient App: A native iOS/Android app patients use on smartphones or tablets to view exercise videos, log workout activity, record outcome data on pain and recovery levels, and communicate with their PTs through HIPAA-compliant messaging tools that deliver text, video, images, and audio content.
Therapist Essentials: A native iOS/Android app PTs use to create and distribute video exercises with HIPAA compliancy directly from their smartphones to patients. PTs also use the app to monitor patient adherence with home exercise programs and trade secure messages (text, video, images, and audio content) with patients.
Continuing Care: Turnkey subscription plans practices offer on a patient-by-patient basis. Practices configure their plans and prices inside Physical Therapy In Hand. A PT issues a subscription to a patient with one click. Patients then pay with a credit card through the In Hand Health Patient Portal.
"(In Hand Health's) approach is unique," said Dr. Ben Fung, a PT who reviewed the solution for UpDocMedia. "Both the web app and mobile app for In Hand Health clinician as well as patient-user are very well built out...a technological solution during a critical time where engagement is everything and expanded revenue streams are a must have for long term business growth."
>> Pricing and Availability
Physical therapy practices can try the In Hand Health solution now by completing a short form at http://www.InHandHealth.com. No credit card is required to open an account.
The first 25 patients a PT practice has in the In Hand Health system are free (bronze plan). Tiered monthly or annual pricing starts when an account reaches 200 (silver plan), 400 (gold plan), and 600 (platinum plan) patients. Continuing Care subscriptions exclude patients from counting in the tiered pricing plans.
See full pricing details at http://www.inhandhealth.com/pricing.
>> About In Hand Health
In Hand Health modernizes care delivery while engaging providers and patients in productive long-term relationships. Through telehealth-based web and mobile solutions, providers use In Hand Health products to deliver their expertise anytime and anywhere. Patients have better access to care plans and receive the value they now expect with the rising costs of healthcare. The In Hand Health platform applies to a wide range of industries (physical therapy, pharmacy, fitness, cardiac care, and more) The company's first solution is for the physical therapy industry. Find out more at http://www.InHandHealth.com.
# # #
In Hand Health, Physical Therapy In Hand, Therapists Essentials, and Continuing Care are trademarks of In Hand Health, LLC.