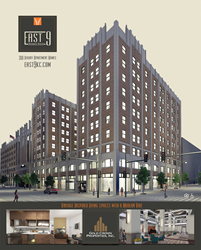 We searched downtown for the right opportunity over the last two or three years and the Pickwick Plaza project hit on all cylinders.
Kansas City, Missouri (PRWEB) November 21, 2016
Hailee Bland-Walsh is the founder and owner of City Gym. She honed her love for fitness and business acumen in California where she managed one of the largest YMCA's in the county for eight years, until she felt ready to head back to Kansas City and open City Gym in 2011. She grew City Gym from a small boutique gym to over 1,400 members by focusing on bringing in the best trainers and listening to the clients' needs. In 2015, City Gym was selected by Google for a national commercial focusing on its inclusivity as a small business and has been selected by KC Magazine as KC's Best Fitness Studio and KC's Best Personal Trainer.
City Gym was represented in their downtown search by Gib Kerr of Cushman & Wakefield. Kerr said, "We searched downtown for the right opportunity over the last two or three years and the Pickwick Plaza project hit on all cylinders. It's a beautiful development in a dynamic neighborhood with growing residential and office populations nearby. And it's just a couple blocks from the new streetcar line. I have no doubt that City Gym will soon be a key element of the community at that location."
East 9 at Pickwick Plaza will open phase one, it's North Tower with 45 residential units this December, 2016 and the entire development will celebrate its Grand Opening in the spring of 2017. "The new 8,700 square foot City Gym - Pickwick Plaza Downtown location is the perfect anchor tenant for our 30,000+ square feet of retail /commercial space and will serve not only as an amenity to our residents, but will be open for business to all of Downtown Kansas City" says Bryan Smith, Executive Vice President of Gold Crown Properties, Inc. "We are in the final negotiations with a new Wine Bar concept as well as a national commercial tenant that fits in perfectly with our development plan that will bring much needed vitality to this side of downtown Kansas City."
Katie Roder, a long term veteran of City Gym will serve as the general manager and will oversee the new location. Currently she manages the original location with over 1,400 members. The new Pickwick Downtown facility will feature:
Open Gym (6,000+ Sq. Ft.)

State-of-the-art cardio, strength and functional training equipment
Personal training services
Private shower suites and restrooms
Lifestyle design programs
40+ weekly group exercise classes
Spin Studio (950 Sq. Ft.)

Featuring 20 Blade Ion™ Spinner® bikes. These bikes allow riders to train with instant feedback on their performance and provides the most accurate power measurement available in the indoor cycling world.
Group Exercise Studio (980 Sq. Ft.)

Offering 30+ group exercise classes per week, ranging from boot camp style workouts, to TRX, to Yoga.
Open Gym Hours:
Monday - Friday (5am - 10pm)
Saturday – Sunday (7am – 7pm)
East 9 at Pickwick Plaza is Downtown Kansas City's spectacular new 260 apartment home, multi-use community, offering Flex sized luxury apartments that keep unit prices affordable, while retaining the luxury that parallels Kansas City's growing market demand. Flush with amenities and boasting one of the only indoor salt water pools in downtown Kansas City. The residents will enjoy additional features such as custom wine lockers, private event space, in-home grocery delivery, attached secure parking garage, business center & conference room, Google Fiber and pet friendly services.