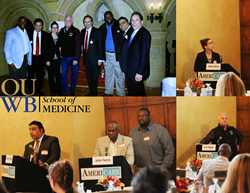 "Everyone is at risk for a traumatic brain injury," said Greg Jamian, president of AmeriCare Medical.
Troy, MI (PRWEB) November 18, 2016
Last month AmeriCare Medical hosted their annual Lunch & Learn highlighting innovations in the identification and treatment of traumatic brain injuries (TBIs). The event was held on Thursday, Oct. 27 and took place at Oakland University in Rochester, Mich.
"Everyone is at risk for a traumatic brain injury," said Greg Jamian, president of AmeriCare Medical, "and with more than two million Americans suffering this type of injury each year, this topic has never been more relevant than it is right now."
Attendees were given a unique opportunity to explore the medical advancements in the field with the assistance of three distinguished guest speakers, which include: Dr. Parmod Mukhi, a board certified physician in brain injury medicine and the clinical associate professor for the Department of Physical Medicine & Rehabilitation at Wayne State University; Dr. Julie Ferris, medical director of traumatic brain injury at William Beaumont Hospital-Royal Oak and faculty member of the Oakland University School of Medicine; and Eric Hipple, former starting quarterback for the Detroit Lions and esteemed author.
Guests were also treated to an impromptu question and answer session with Detroit Lions Alumni including Maurice Harvey, who played seven seasons in the NFL as a defensive safety and Scott Conover, who played six seasons as an offensive tackle. The former players answered questions about the current litigation between the National Football League Players Association (NFLPA) and the NFL and also discussed the research of Dr. Bennet Omalu (portrayed by actor Will Smith in the 2015 movie 'Concussion').
Harvey and Conover spoke on the inherent risk of TBI in youth sports today and agreed that despite new measures being taken to reduce injury risk, there is still much more work to be done. They recommended more parents and coaches take on a proactive approach and not permit a player to continue play until they are cleared by a doctor if a concussion is suspected.
"I was very impressed with the whole event," said Chris Andrews, Director of Nursing for AmeriStaff Nursing Services. "Dr. Ferris and Dr. Mukhi provided unprecedented clinical insight on brain injuries and it was all brought to life with Eric Hipple's emotional account from a patient's perspective."
About AmeriCare Medical, Inc.
For more than three decades, AmeriCare Medical, Inc. has provided integrated health care services to hospitals, assisted care facilities and private homes throughout Michigan. AmeriCare Medical, Inc. is the parent company of AmeriStaff Nursing Services, Sun Medical Equipment and Rx iV Pharmacy, making it a "one stop"resource for patients and their home care needs. AmeriCare Medical, Inc. is accredited by the Community Health Accreditation Program (CHAP) for high standards of excellence in medical staffing, private duty nursing, durable medical equipment and specialized pharmacy services.