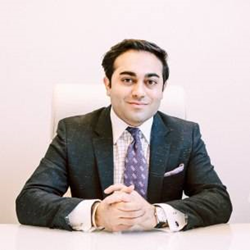 (PRWEB) November 20, 2016
Dr. Sachin M. Shridharani Joins the Exclusive Haute Beauty Network
Dr. Sachin M. Shridharani, premier plastic surgeon of New York, New York has joined the prestigious Haute Beauty network.
The Haute Beauty Network, affiliated with luxury lifestyle publication Haute Living, is proud to recognize Dr. Sachin M. Shridharani as a prominent cosmetic surgeon and the network's newest partner.
Dr. Sachin M. Shridharani, a Johns Hopkins trained Plastic Surgeon based in New York City focusing on aesthetic/cosmetic surgery and complex reconstruction.
Dr. Shridharani will share his skill and expert opinion with the Haute Beauty and Haute Living subscribers, educating readers on his industry and providing exciting and relevant news, tips, trends and insight relating to his specialties.
About Dr. Shridharani:
Attended one of the few Bachelor/Doctor of Medicine (MD) accelerated track programs in the country. After graduating with honors and at the top of his class at the combined BA/MD program at the University of Missouri where he obtained his undergraduate degree (BA) and doctor of medicine (MD) with honors in an accelerated 6 year program straight out of high school, he was accepted into the esteemed Johns Hopkins/University of Maryland Integrated Residency Program in Plastic and Reconstructive Surgery where he trained and served as Chief Resident under leaders in the field of Plastic, Reconstructive, Aesthetic, Craniomaxillofacial, and Hand Surgery. The Johns Hopkins Hospital has been ranked by US News and World Reports as the #1 hospital in America for 23 years. He went on to complete an Aesthetic Plastic Surgery Fellowship at the prestigious Manhattan Eye, Ear and Throat Hospital in New York City where he focused exclusively on cosmetic surgery procedures and injectables like Botox and fillers.
Dr. Shridharani has experience in developing 501(c)(3) non-profit medical organizations and was featured on the ABC TV show "Hopkins." Furthermore, he has co-authored nearly 60 peer-reviewed articles and book chapters in some of the most well respected medical journals including the Journal of the American Medical Association (JAMA) and Plastic and Reconstructive Surgery. He has presented this research work at several national plastic surgery conferences throughout the United States. These innovative research interests have earned him many awards including the coveted Johns Hopkins/University of Maryland Plastic Surgery Resident Research Award, American Society of Plastic Surgery (ASPS) Senior Resident Conference Best Aesthetic Paper Award, and the American Society of Aesthetic Plastic Surgeons (ASAPS) Gaspar W Anastasi Award for Best Research Presentation. In addition Dr. Shridharani was awarded the prestigious Johns Hopkins/University of Maryland Plastic Surgery Residency Program Teaching Award for commitment to medical student and resident education. Furthermore, he has written a media-reviewed children's book for children suffering from cleft lip and palate deformities and the family members who take care of them.
Dr. Shridharani continues to develop his interests in aesthetic/cosmetic surgery pertaining to the face, breast, abdomen, and body contouring. These procedures include (but are not limited to): facelift (rhytidectomy), rhinoplasty, eyelid surgery (blepharoplasty), breast augmentation, breast lift (mastopexy), tummy-tuck (abdominoplasty), mini-tummy tuck, "mommy-makeover surgery," liposuction, fat grafting/transfer, botox, and dermal fillers. He is fully committed to treating each patient with the latest and safest personalized plastic surgery care in order to meet his patient's goals and create beautiful natural results with concierge attention.