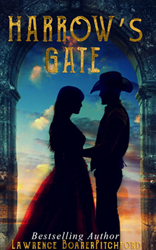 ...less than the cost of a cup of coffee at a café...
Sacramento, California (PRWEB) November 21, 2016
Indie-author Lawrence BoarerPitchford has been climbing the Amazon charts and has hit #18 on the Amazon's Hot New Release bestseller's list. "I didn't expect this so soon, but it is a riveting story filled with lots of action and adventure, so what's not to like?" stated the author. When asked about the racier love scenes, he replied, "Passion and lovemaking? I believe most people rather like that."
This book has blasted out into the market, giving readers feelings of hopeful longing for simpler days where men are chivalrous, the women are elegant, and neither the men or the women cower in the face of life's challenges. Harrow's Gate paints a fantastic picture of young love, in a world where dreadnoughts prowl the sea lanes, and gas-lamps shower the cobblestone streets in a soft orange hue. This is science fiction and steampunk forged into a wondrous tale of risk and reward.
In a far-off outpost along the border of the Rema desert, the Desert Ghosts ply their trade. Harrow's Gate is the place where humans and aliens meet, money exchanges hands, and trade goods flow from east to west. But, it is the mysterious and timeless arch that gives the town its name – Harrow's Gate. It is a place where the desert begins, and the path to the impassable White Desert lures only the heartiest adventurers.
The author said, "Over the holidays the novel is only 99 cents. This is less than the cost of a cup of coffee at a café - far less than the cost of downloading a movie from one of the video outlets, or even the price of a theater ticket. I think 99 cents is a great deal for a week of exciting entertainment, and hours of adventure and romance!" Harrow's Gate is available for download, and it also can be found in paperback.
Lawrence BoarerPitchford is the author of such works as Thadius, The Lantern of Dern Blackhammer, Sawbones, In the World of Hyboria (Book 1 Grim Determination and Book 2 The Ties that Bind), as well as the cheeky novel Tales of Mad Cows and Brothels.
Lawrence works and lives in the Sacramento region of California. His work can be found on Amazon Books, Smashwords, Barnes & Nobles, and iBooks. Take a moment to explore http://www.BoarerPitchford.com and visit the author on Facebook, Twitter, and Goodreads.