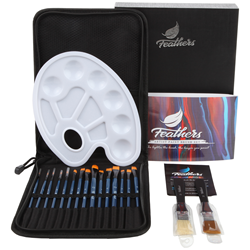 The lighter the brush, the longer you paint!
San Francisco, California (PRWEB) November 21, 2016
After a long wait to get this new item in stock, Lush Items is delighted that their first Craft and Hobby product - the Feathers Paint Brush Set – is now for sale on Amazon in the US. Amazon is their first choice ecommerce platform to launch the Feathers Paint Brush Set because of its ever increasing number of customers who are ready to buy, and because so many shoppers trust the Amazon brand with regards to customer service and product guarantees.
Getting Feathers in stock just in time for the busiest shopping season has been the aim all along. It is well known in retail statistics, that for most sellers, the biggest chunk of annual sales occur during the period Black Friday through Christmas. However, there is more to selling a product than simply having it in stock in an Amazon warehouse with an Amazon listing that customers can search for. The biggest issue is getting a new product noticed amongst others in the same range which already have a sales track record. Occasionally, a seller hits a home run when launching a new product. Meaning that the product simply sells on its own with virtually no marketing efforts. But this is not the norm.
So, in an attempt to get the Feathers Paint Brush Set noticed, Lush Items is taking advantage of Amazon's new Lightning Deals feature on November 26th 2016 at 3:50 PM PST. This Feathers deal is for 40% off on a limited number of items. Typically, a Lightning Deal provides a certain number of products at a reduced price for a few hours only, or until the allocation sells out, and its purpose is to create a buzz and generally build up some sales momentum for products new to the market or those in need of this extra push.
Julie Stevens, Sales Director of Lush Items, said, "It's really great to have our Feathers Paint Brushes in stock on Amazon in time for the busiest shopping period of the year. We now just need to focus our efforts towards increasing visibility, to take advantage of the massive wave of customers looking to buy."
The Feathers Artist Paint Brush Set is an assortment of 17 birchwood, short handle paintbrushes, which comes with a palette and zip storage case. All nicely presented in an elegant gift box. They are most suited to hobby artists who enjoy painting in watercolors or acrylics.
The Feathers Artist Paint Brush Set is currently available on amazon.com at an introductory launch price of $19.99, and has a full refund guarantee.
About Lush Items
Lush Items specializes in useful, practical and quality products suitable for all households, which it sells in the US and Europe. The company was founded by Julie Stevens in 2014, and has its US headquarters in San Francisco, California.