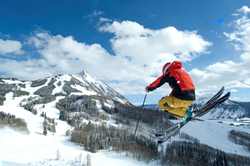 Crested Butte, Colorado (PRWEB) November 28, 2016
The first winter storm of the season hit Crested Butte last night. Storm totals are expected to hit 20". Known for extreme skiing and the steepest terrain in America, Crested Buttians are ready to hang up their mountain bikes and put on skis. The mountain town called "Colorado's Last Great Ski Town", isn't stressed about the long fall and little snow. In the 2007-2008, Crested Butte didn't see snow in the early season, and ended up with a 100" by Christmas.
Gunnison-Crested Butte (GUC) has non-stop flights from Chicago, Houston, Dallas, and Los Angeles. Click here to learn more about air service. Click here for travel deals on airfare, lodging, and lift tickets.
Winter Events
Santa Ski and Crawl, December 10
Mountain High Music Festival, January 14-15
Fat Bike World Championships, January 25-29
The Alley Loop Nordic Ski Marathon (a Birkebeiner Qualifier), February 4
Crafted Tasting Event, March 4
Gore-Tex Grand Traverse Backcountry Ski Race, March 31