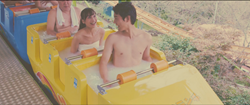 As the world's biggest hot spring city, we will develop innovative ways to show people the appeal of a hot spring. SPAmusement is an initiative that we want to make a reality and the first step in making Onsen to evolve into a new era.
Beppu City, Japan (PRWEB) November 23, 2016
Beppu City, Japan, which has more hot springs than any other city in the world, has announced their desire to transform themselves into a playful hot spring city. They recently revealed their concept movie about their project called "SPAmusement Park" which links the two worlds of Onsen, or hot springs and amusement parks.
Beppu City boasts the world's highest yield of hot spring water in hot springs which people use. A decision was made to realize a new vision for the city, "The Amusement Onsen City Initiative," and to spread the word widely throughout the nation and the world.
As the first stage of Amusement Onsen City Initiative, they revealed a project called "SPAmusement Park", a place where you can enjoy rides while soaking in a hot spring.
The concept movie shows what SPAmusement Park could be: enjoying a soak while riding a roller coaster or a merry-go-round, taking a family bath in a car of a Ferris wheel, or riding a cable car while enjoying the scenery, all while soaking in Onsen water. SPAmusement Park is considering to become this kind of place.
Their hope is that once the video reaches 1,000,000 views they will make their SPAmusement Park into reality -- that many views will be seen as a vote of confidence.
*The movie is just a conceptual image. It does not indicate what the actual product will be.
Yasuhiro Nakano, the mayor of Beppu City, says that, "As the world's biggest hot spring city, we will develop innovative ways to show people the appeal of a hot spring. SPAmusement is an initiative that we want to make a reality and the first step in making Onsen to evolve into a new era."
###