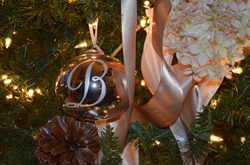 "Celebrating togetherness is a long-standing holiday tradition at The Bernards Inn," said General Manager, Joshua Barbee. "We're looking forward to making the holidays magical this year for our guests."
BERNARDSVILLE, N.J. (PRWEB) November 29, 2016
There's no place like The Bernards Inn for the holidays. Celebrate the splendor of the season at the four-star, four-diamond restaurant and hotel located in the heart of downtown Bernardsville. Elegantly decked for the holidays, The Bernards Inn offers spectacular dining and entertaining options all season long.
"Celebrating togetherness is a long-standing holiday tradition at The Bernards Inn," said General Manager, Joshua Barbee. "We're looking forward to making the holidays magical this year for our guests."
Intimate, special occasion dining is the hallmark of The Bernards Inn and welcoming guests throughout the holiday season has become a tradition in the Somerset Hills. Breakfast with Santa, Christmas Eve, New Year's Eve and New Year's Day will be celebrated in style. In addition to award-winning fine dining, The Bernards Inn offers 20 redesigned guest rooms and holiday accommodation packages are available.
BREAKFAST WITH SANTA, DECEMBER 11
"Breakfast with Santa" will be celebrated on Sunday, December 11 from 8 a.m. to 1:30 p.m. Meet Santa Claus and enjoy an abundant buffet breakfast including made-to-order omelets, silver-dollar pancakes, bacon, sausage, salads, fresh fruit and caroling by the Bernards High School Madgrigals choir. Prices are $35 for adults; $20 children 2 – 12; children under 2 enjoy complimentary breakfast.
Guests will have the opportunity to meet and take photographs with Santa and delight in the spectacular gingerbread house. Special holiday treat tables for children will feature gingerbread and a selection of holiday cookies, cupcakes, candy canes and more.
CHRISTMAS EVE DINING, DECEMBER 24
The Bernards Inn is offering two festive dining options for Christmas Eve on Saturday, December 24. Enjoy a three-course, prix-fixe dinner in the dining room from 4 p.m. – 8 p.m. Executive Chef Corey Heyer will present a special holiday menu of exquisite appetizers, entrees and desserts. Dinner is $95 for adults; $45 for children under 12.
An elaborate buffet will be offered from 4 p.m. – 8 p.m. in the Fenwick Ballroom. Indulge in a generous assortment of salads, fruits, chilled seafood, pasta, hot entrees, carving stations and a delightful dessert station including an ice cream sundae bar. The buffet is $75 for adults; $35 for children 6 to 12; $15 for children 2-5; children under 2 are complimentary.
Santa Claus will also be making a special visit with treats for children of all ages. Reservations are required and can be made by calling 908-766-0002.
NEW YEAR'S EVE DINING, DECEMBER 31
Celebrate a dazzling New Year's Eve at The Bernards Inn with a special three-course prix-fixe dinner on Saturday, December 31. Chef Corey Heyer will present a spectacular holiday menu of innovative appetizers, entrees and desserts. Guests can also enjoy live piano music in the Library Bar and are invited to ring in the New Year with party favors. The dinner is $125 per guest. Reservations will be taken from 5:30 p.m. – 10:30 p.m. Reservations are required and can be made by calling 908-766-0002.
NEW YEAR'S DAY DINING, JANUARY 1
Kick off the New Year with a delightful two-course, prix-fixe brunch from 9:30 a.m. – 2 p.m. The menu will feature an assortment of Chef Heyer's holiday menu selections. A children's menu will also be available. Reservations are required and can be made by calling 908-766-0002.
ABOUT THE BERNARDS INN
Established in 1907, the Bernards Inn is an award-winning restaurant and inn located in the heart of downtown Bernardsville, New Jersey. A Somerset Hills landmark, The Bernards Inn welcomes guests with the style and elegance of a small European luxury hotel, while preserving the charm of a historic American country inn. Under the ownership of Hampshire Destination Properties, The Bernards Inn marked its 100 year anniversary with a multimillion dollar renovation and redesign. The Inn is the only AAA Four Diamond restaurant and hotel in New Jersey and offers fine dining, wedding and banquet services, conference rooms, as well as 20 well-appointed guestrooms. For more information about The Bernards Inn, call 908-766-0002 or visit http://www.bernardsinn.com.
###