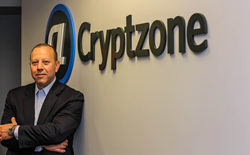 Dispersed teams conduct business from anywhere anytime, creating a challenge to provide comprehensive access control at a granular level. I'm looking forward to sharing insight on deploying SDP and single packet authorization technologies.-Leo Taddeo, CSO
Waltham, Mass. (PRWEB) November 28, 2016
Cryptzone, the Software-Defined Perimeter company, today announced that Chief Security Officer, Leo Taddeo, will keynote Infosecurity Magazine's 2016 Boston Cyber Security Conference on December 6 (9:20 AM ET) at the Omni Parker House. Cryptzone will exhibit at the event through December 7.
The conference supports business transformation with agile cyber security and offers the more than 100 anticipated attendees practical ways to implement strategies into the enterprise. Taddeo's keynote will focus on, "Deploying Dynamic User Access Controls across Traditional Networks, Cloud and Virtualized Environments," which is a critical topic within the current global security landscape.
"Dispersed teams conduct business from anywhere and anytime, creating a challenge to provide comprehensive access control at a granular level," explained Taddeo. "I'm looking forward to sharing insight on how to deploy Software-Defined Perimeter and single packet authorization technologies, so companies can implement a homogeneous centralized approach to secure access control for employees, customers, partners and third-parties to their most critical resources."
Cryptzone reduces the enterprise attack surface by 99% with identity-centric security solutions that protect applications and content from internal and external threats. As Chief Security Officer for Cryptzone, Taddeo analyzes the cyber security market to help shape Cryptzone's vision. He provides domain insight into the techniques, tactics and procedures used by cyber criminals that enables Cryptzone to develop disruptive solutions that empower customers to defend against advanced threats and breaches.
About Cryptzone
Cryptzone reduces the enterprise attack surface by 99% with its secure network access solutions. Using a distributed, scalable and highly available Software-Defined Perimeter model, Cryptzone protects applications and content from internal and external threats while significantly lowering costs. In cloud environments including AWS and Azure, Cryptzone provides user access control, increases operational agility and improves the ability to meet regulatory and compliance standards. More than 450 companies rely on Cryptzone to secure their networks and data. For more information visit http://www.cryptzone.com.
Media Contact
Jessica Ann Morris
ZAG Communications for Cryptzone
+1.781.608.0499
jessica(at)zagcommunications(dot)com