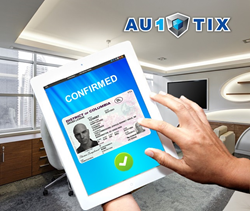 Landbay takes fraud protection and KYC compliance very seriously. AU10TIX BOS enables us to facilitate this in an operationally efficient manor while at the same time providing our customers with streamlined onboarding experience.
Nicosia, Cyprus (PRWEB) November 23, 2016
AU10TIX BOS, the forerunner, and currently only operational 2nd generation ID authentication and onboarding platform enables Landbay to accelerate customer onboarding and simplify ID authentication to a fully automated Click & Go experience. By automating both forgery and counterfeiting detection, using latest machine-learning and Deep Learning algorithms, AU10TIX BOS enables fraud detection beyond human ability, with a range of tests that are not available using conventional 1st generation solutions. BOS technology is especially designed to handle borderline quality images that are typical to mobile and online CNP channels. Landbay has previously been using Jumio technology.
"We moved provider to AU10TIC BOS after conducting detailed analysis in the market" says Julian Cork, Chief Operational Officer at Landbay: "The difference between 2nd generation technology and conventional solutions became evident pretty quickly. AU10TIX BOS stands out in speed, accuracy, breadth and depth of forensic checks, and the ability to handle 'sub-optimal' image qualities. Landbay takes fraud protection and KYC compliance very seriously. AU10TIX BOS enables us to facilitate this in an operationally efficient manor while at the same time providing our customers with streamlined onboarding experience."
"We are delighted to have Landbay to our swelling ranks of online FSP clients", says Ron Atzmon, Managing Director of AU10TIX: "As online-indigenous P2P lenders, Landbay are well aware of the critical importance of proper automation to customer acquisition, fraud protection and operating efficiency. AU10TIX strategy of full automation, deep authentication and better handling of image quality challenges has paid itself. AU10TIX is now well recognized as the technology leader in ID authentication and onboarding automation, and we are happy to put latest technology at the disposal of strong players such as Landbay."
"The battle haze in the ID authentication (or as some call it: "ID Verification") is now clearing", says Ofer Friedman, VP Marketing of AU10TIX: "Latest market facts that point at fraud focusing on stolen genuine personal data make it only clearer that fraud detection cannot stop at content reading and data vetting. Stolen genuine data is still genuine, so it raises only seldom the red flag. What Landbay is armed with is the technology that can help not only retrieve this data but also tell if it comes from a genuine ID document or not. AU10TIX's recent announcement of Deep Learning based doc-to-selfie face comparison also demonstrates that 2nd generation image processing and risk analytics can now go further than ever before. "
About Landbay
Landbay is an FCA regulated investment vehicle that harnesses peer-to-peer technology to give investors access to an exciting and robust asset class – UK rental property.
It connects investors with experienced professional buy to let landlords, providing a competitive loan to the landlord, secured against the property, in return for attractive and predictable returns for the investor. By cutting out the banks, both get a better deal.
Landbay was the UK's fastest growing alternative finance business in 2015 (source: Altfi). The company is one of 8 members of the Peer-to-Peer Finance Association and the only peer-to-peer member of the Council of Mortgage Lenders.
Landbay is authorised and regulated by the FCA, but peer-to-peer lending is not covered by the FSCS. Investors' capital is at risk
Landbay is based in London (UK). More information can be found at http://www.Landbay.co.uk
About AU10TIX
AU10TIX Limited, a fully owned subsidiary of ICTS International N.V, deals with the authentication and digitization of identifying documents including Passports, identity cards, driving licenses and other complementary identifying documents. The company specializes in implementing hardware & software based applications used for scanning, identifying, content retrieval, authentication and validation of identifying documents. AU10TIX is a pioneer of all-channel (front-end and online) ID authentication and processing solutions. The company's products drastically reduce identifying document-based fraud, reducing the costs associated with client processing and enabling effective regulatory compliance, while making the sales and support operations speedier and considerably more efficient.
For more information, visit http://www.au10tix.com
About ICTS International N.V.
ICTS specializes in the development and implementation of innovative security concepts and solutions designed to meet the needs of a variety of industries, mainly aviation transportation, border control and sensitive facilities. ICTS International benefits from over two decades of expertise and international operational experience in transportation security, with a particular emphasis on high-risk environments, passenger processing transactions and the integration of security services to provide a comprehensive security solution. It also offers a wide variety of customized training programs, tailored procedures and a wide range of security consulting services. The company has developed and implemented unique technological solutions, based on its comprehensive approach to security, designed to enhance the level of security while accelerating the security check process.
For more information, visit http://www.icts-int.com
This press release contains "forward-looking statements" within the meaning of the Private Securities Litigation Reform Act of 1995, regarding the Company's business strategy and future plans of operations. Forward-looking statements involve known and unknown risks and uncertainties, both general and specific to the matters discussed in this press release. These and other important factors, including those mentioned in various Securities and Exchange Commission filings made periodically by the Company, may cause the Company's actual results and performance to differ materially from the future results and performance expressed in or implied by such forward-looking statements. The forward-looking statements contained in this press release speak only as of the date hereof and the Company expressly disclaims any obligation to provide public updates, revisions or amendments to any forward-looking statements made herein to reflect changes in the Company's expectations or future events.
Contact:
Landbay
Clare Joy, Communications Manager
Email: Clare.joy(at)landbay(dot)co(dot)uk
Tel.: +44 (203) 817 7700
AU10TIX
Ofer Friedman, VP Marketing
Email: ofer.friedman(at)au10tix(dot)com
Tel.: +357 (22) 007698
ICTS International NV
Alon Raich
Email: mail(at)ictsinternational(dot)com
Tel.: +31-20-716 3421