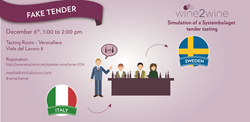 At Systembolaget, we are quite specific when we ask for wines; the trick for producers and importers is to understand the process of selection
Verona, Italy (PRWEB) November 21, 2016
After the successful launch of wine2wine Asia at Vinitaly Hong Kong, Vinitaly International with wine2wine Verona affirms its mission to be an advocate of knowledge-and-trends sharing in the wine business, by including a novel simulation session focused on the Swedish market. The session, held by the Swedish Head of Product Quality Control Jonas Röjerman, will be the first of its kind in Italy, and will demonstrate the mechanisms of selection at Systembolaget, the monopoly for wine distribution to Swedish consumers.
The session aims to address the difficulties facing Italian wine producers who wish to export to Sweden. Often they are due to a lack of preparation, misinformation about the selection, and not, as many believe, a matter of presenting the best wine. An example is the supplier who needs to provide large quantities of wine created to custom-designed specifications, where the quality must remain constant. Additionally, the Swedish market often demands bag-in-box solutions. This informative and practical wine2wine session will offer an exceptional opportunity for 50 attendees to learn more about the System and its procedures, by simulating a tender tasting and demonstrating what really matters during the selection process.
"At Systembolaget, we are quite specific when we ask for wines; the trick for producers and importers is to understand the process of selection", says Mr. Röjerman. "If you can fulfil what we ask for, then every Italian producer has the same chance to be listed. The best quality will be selected for listing in our range. Our Category team constantly oversees the range of products we present. Italy is by far the market leader in volume and value in the Systembolagets assortment, with quite popular trends such as Amarone and Ripasso."
The idea of a monopoly in Sweden goes back to the mid 1800s, and was created to minimize alcohol related problems.
The country has one of the world's largest alcoholic beverage retailers, Systembolaget, which responds to a "demand pull" for wine, instead of the classic "supply push" methodology. Today, the system has one of the most comprehensive product ranges in the world, constantly developed by matching trends and consumers' tastes, that includes small family-owned vineyards to leading brands. Systembolaget employs trained buyers, each testing several thousand samples in accordance with a tailored demand, but also seasons, celebrations, and international trends and events. Moreover, the system considers trends, like health, and accordingly, offers wines with lower alcohol content or in smaller packages. Environmental trends have been addressed by promoting recyclable packaging and fair working conditions.
Every year Systembolaget designs a product strategy, the foundation of the system's Launch Plan. This Launch Plan controls what type of drinks will be requested from wine producers. For each Launch, a specification for beverage suppliers is prepared, stating which type of drinks are sought. Based on specifications, suppliers submit samples to be then tested through blind tastings (without information about the brand, supplier or producer) in order to assess the quality. Prior to the launch in stores there is another tasting panel, this time providing facts, aroma and flavour descriptions, and a comprehensive quality control in the laboratory.
Systembolaget is non-discriminatory towards all their beverage suppliers, and the selection criteria includes brand neutrality, transparency, non-discrimination, and objectiveness. There is a clear purchasing policy that relies on thoughtfulness, knowledge and inspiration. There are new launches in stores four times a year, and every Italian wine producer can be listed in the catalog, if the fundamental basic guidelines to the selection process are followed.
The session at wine2wine is open to 50 participants, on a first come first served basis. For more information about wine2wine visit http://www.wine2wine.net/event
We would like to thank Consorzio del Chianti Classico for their invaluable support at the tasting simulation by supplying their wines.
About:
Veronafiere is the leading organizer of trade shows in Italy including Vinitaly (http://www.vinitaly.com), the largest wine and spirits fair in the world. During its 50th edition Vinitaly counted more than 4,100 exhibitors on a 100,000+ square meter area and 130,000 visitors from 140 different countries. The next edition of the fair will take place on 9 - 12 April 2017. The premier event to Vinitaly, OperaWine (http://www.operawine.it) "Finest Italian Wines: 100 Great Producers," will unite international wine professionals on April 8th in the heart of Verona, offering them the unique opportunity to discover and taste the wines of the 100 Best Italian Producers, as selected by Wine Spectator. Since 1998 Vinitaly International travels to several countries such as Russia, China, USA and Hong Kong thanks to its strategic arm abroad, Vinitaly International. In February 2014 Vinitaly International launched an educational project, the Vinitaly International Academy (VIA) with the aim of divulging and broadcasting the excellence and diversity of Italian wine around the globe. VIA this year launched the second edition of its Certification Course and today counts 54 Italian Wine Ambassadors and 3 Italian Wine Experts.