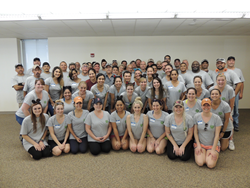 Austin, Texas (PRWEB) November 22, 2016
Gables Residential has been giving back to its communities in many ways around the country. One of the most significant ways has taken place over the past 16 years by dedicating a day where all associates come together in their respective regions to focus on giving back to a worthy cause. Gables Day encompasses a full day in each region throughout the fall where approximately 1,000 associates come together to volunteer their time and share in the experience of this special day. Since 2000, Gables Day has resulted in contributions of over $1.2 million in goods and services and approximately 125,000 hours of labor and dedication by Gables associates.
In Austin, TX, Gables Day recently took place with the Center of Child Protection. Over 45 Gables associates spent the day working with the Center to help facilitate the services they are providing to the children. The Center for Child Protection is a nationally non-profit accredited children's advocacy center involved in the investigation of crimes against children. For more than 25 years, the Center has been the first stop for children who are suspected victims of sexual abuse, physical abuse, neglect and for children who have witnessed a violent crime.
According to Gary Nipp, Regional Service Manager for Gables in Austin, "Gables Day is to me one of the most inspiring days of the year as it allows our Gables family to give back to our community. This year was my second year involved with Gables Day and it was one that left me feeling like we had touched many more lives than we would ever know. To hear the Center for Child Protective Services folks telling us how much they appreciated the help and the emotion with which it was said with was very moving. I am so thankful to be a part of such a great company."
"We had a great experience working with the Gables team," stated Collin Cook, Facilities and Operations Manager for the Center for Child Protection, "They were able to provide us with materials and invaluable manpower to give our facility a facelift. They did in one day what would have taken us months to complete. From planning/coordination to execution, they really came through for us in every aspect of the job. All of the volunteers were friendly, helpful, and arrived ready to hit the ground running. As a non-profit organization we seldom have the means available to undertake these kinds of projects, and we are very grateful to have benefited from such a wonderful group of folks!"
About Gables Residential
Gables Residential is an award-winning, vertically integrated, real estate company and privately held REIT specializing in the development, construction, ownership, acquisition, financing and management of multifamily and mixed-use communities. Gables Residential owns, develops and manages communities in high-growth U.S. markets such as Atlanta, Austin, Boston, Dallas, Denver, Houston, South Florida, Southern California and metropolitan Washington, D.C. Gables also provides third party management services in the New York, Baltimore, Frederick, Tampa, Phoenix, Seattle, Charlotte, Central and North Florida markets.
Gables manages over 31,000 apartment homes and approximately 550,000 square feet of retail space and has received national recognition for excellence in development, construction, management, sales, marketing, learning and development, benefits and corporate accommodations. These achievements reflect the impact of our experienced and dedicated team members, our superior knowledge of the markets served, and our expertise in development and management.