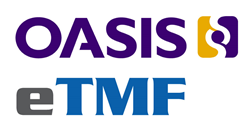 "The eTMF Specification addresses the real need for an interoperable, standard method for representing and exchanging clinical trials eTMF content," --Laurent Liscia, CEO of OASIS
Redwood Shores, CA (PRWEB) November 21, 2016
After a two-year effort by pharmaceutical companies, the National Cancer Institute and others involved in moving forward a standard for the electronic trial master file area, the members of the OASIS Electronic Trial Master File (eTMF) Standard Technical Committee have released the Electronic Trial Master File (eTMF) Specification Version 1.0. SureClinical, a health sciences cloud application provider, was a founding member of the OASIS eTMF Standard Technical Committee. The approved specification is available for review and download at OASIS, a non-profit involved in the development of global data standards for computing and interoperability. The new OASIS eTMF Specification will promote rapid data sharing and interoperability between content management systems across diverse computing platforms and cloud networks within the clinical trials community.
Zack Schmidt of SureClinical, Chair of the OASIS eTMF Standard Technical Committee, said, "We've released a specification and technology standard that solves the problem of how organizations can share electronic trial master file data efficiently. Since so many organizations are using their own variant of the TMF Reference Model, it's difficult for clinical trial stakeholders to easily share data. Now with the release of the OASIS eTMF Specification, the data sharing and interoperability problem is solved. The OASIS eTMF Specification supports formalized representation and exchange of clinical trial content between clinical trial stakeholders, regardless of the filing plan, language, application or system used. By adopting the OASIS eTMF Specification and the National Cancer Institute's controlled vocabulary for clinical trials, or an organization specific TMF filing plan, organizations can have the confidence of collaboration, data sharing and application interoperability between stakeholders."
Clinical trials are a critical part of the development and approval of medical treatments and devices. In order to enable clinical trial stakeholders to rapidly achieve the benefits of interoperable electronic trial master file technologies, the Technical Committee has published the Electronic Trial Master File Specification using an open architecture and technology neutral approach. The specification describes details of an interoperable content classification system with rules, policies and procedures for how electronic content can be shared and customized for clinical trials.
The OASIS eTMF Standard Technical Committee's Specification provides compatibility with TMF Ref Model V3. The TMF Ref Model terms have been reviewed, assigned controlled vocabulary IDs and have been published by the National Cancer Institute's Enterprise Vocabulary Services for free use by any organization.
The eTMF Standard framework is a 'standard based on standards.' It supports collection, classification and archiving of required documents from multiple regulatory agencies, published vocabulary references, and key industry standards and is language and system neutral.
Support for OASIS eTMF Standard
"OASIS congratulates all the members of the eTMF Technical Committee on this accomplishment. The eTMF Specification addresses the real need for an interoperable, standard method for representing and exchanging clinical trials eTMF content," said Laurent Liscia, CEO of OASIS, the nonprofit consortium that drives the development, convergence and adoption of open standards for the global information society.
New members are encouraged to join the OASIS eTMF Standard Technical Committee at any time.
Download the OASIS eTMF Specification and Package
The full OASIS eTMF Specification 1.0 package can be downloaded from OASIS at the following link:
https://www.oasis-open.org/news/announcements/electronic-trial-master-file-etmf-specification-v1-0-published-by-the-etmf-tc
The OASIS eTMF Specification 1.0 in PDF format can be downloaded from OASIS at the following link:
http://docs.oasis-open.org/etmf/etmf/v1.0/cs01/etmf-v1.0-cs01.pdf
All materials in the specification package are accessible to both members and non-members and may be freely used and implemented by organizations under OASIS' IPR policies as detailed in the specification.
Additional Information
Details on the OASIS eTMF Standard Technical Committee can be found at:
https://www.oasis-open.org/committees/etmf/
About SureClinical
SureClinical's applications and platform helps life science and healthcare organizations to improve patient care globally through the accelerated delivery of new therapies and innovative services. SureClinical is the only company to offer an FDA and EC compliance validated clinical trial portal and applications with integrated high trust digital signing and workflows to eliminate paper in clinical trials. SureClinical's cloud application solutions enable clinical study teams to collaborate across multiple global clinical studies and multiple organizations from a single web portal. For more information, visit http://www.SureClinical.com.
Press contact
Zack Schmidt, info(at)SureClinical(dot)net, +1.650.834.9900