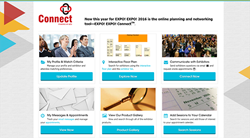 Connect provides exhibitors access to their best matched attendees in advance of the show
Columbia, Maryland (PRWEB) November 22, 2016
a2z, Inc., the Maryland-based event management software company, is pleased to announce that the International Association of Exhibitions and Events (IAEE) has once again partnered with a2z to offer a suite of powerful networking and planning solutions to event participants for IAEE Expo! Expo! 2016.
The Expo! Expo! IAEE's Annual Meeting and Exhibition will be held from December 6-8, 2016 in Anaheim, CA and will bring together trade show organizers and industry suppliers for their mutual benefit through three days of exhibition, education and networking events.
The a2z platform being utilized at Expo! Expo! 2016 includes ConnectTM to enable exhibitors to network and schedule meetings with hosted buyers and other registered attendees as well as an a2zShow-powered responsive, feature-rich website and interactive event map for the event participants.
ConnectTM provides exhibitors access to their best matched attendees in advance of the show so that they may schedule in-booth meetings and build solid pre-qualified leads before the event. The company and product information featured in an exhibitor's online booth offers attendees an early opportunity to learn about the products and services being showcased at the event, increasing the value and return from one-on-one, face-to-face meetings. Similarly, registered attendees can email exhibitors directly from the exhibitor list and request appointments with exhibitors.
Attendees may visit myexpoexpo.com to search the online product gallery, video gallery, exhibitor press release gallery, and show specials showcased by exhibitors and build a personalized planner with must-see exhibits and products.
Exhibitors can use the ChirpE Booth Promotion Widget to engage their clients and prospects visiting their company website before the show starts. The widget allows exhibitors to promote their online booth on their websites so that potential and registered attendees may have easy access to their company information, the event website, and even register for the event. This embed code for this complimentary widget is accessible to exhibitors from their online exhibitor console.
IAEE and a2z have partnered to provide enhanced exhibitor listings enabling participating exhibitors to engage attendees with interactive content and show specials and significantly improve their visibility to attendees through the event website. In addition, a2z is providing a comprehensive audience education and engagement program to the attendees and exhibitors.
To learn more about Expo! Expo! 2016, please visit the event website.
About a2z
a2z, Inc. provides powerful web-based event management tools that grow your show by increasing and accelerating booth sales, helping boost revenue, and enhancing engagement and value for everyone. a2z, Inc. powers more than 1000 leading events every year, including more than 50% of the Top 250 Shows in the U.S. a2z offers three platforms as one integrated solution: Expo & Conference Management, Networking & Lead Management, and ChirpE Mobile & Social Media.
About IAEE
Trusted since 1928, IAEE provides quality and value to its members through leadership, service, education and strong relationships. IAEE is the largest association of the exhibitions and events industry in the world, with a membership of more than 1,300 show organizers, exhibitors and exhibition supplier companies and over 10,000 individual members in 52 countries.
http://www.iaee.com