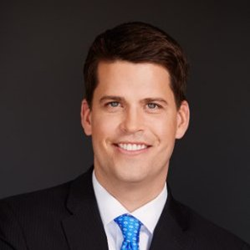 Phoenix, Arizona (PRWEB) November 29, 2016
Phoenix attorney John Kelly is one of a small group of attorneys named among the 2017 Rising Stars list by Super Lawyers® magazine. This honor recognizes Mr. Kelly's high level of achievement in his profession, and represents a peer-reviewed level of recognition reserved for only 2.5% of the lawyers in Arizona who are 40 years of age or under, and who have been practicing law for ten years or less.
John is the founder of the Kelly Law Team, a personal injury law firm in Phoenix. He has extensive trial experience, concentrating primarily on obtaining compensation for victims in personal injury cases. He has a well-deserved reputation as an aggressive advocate who will fight for the rights of his clients. John's selection as a Rising Star is the latest in a series of honors and achievements, including a 10-star rating by Avvo, the legal ranking service.
The process of selection as a Rising Star begins with the nomination of an attorney by one's peers. Attorneys may not nominate themselves, and candidates are identified by the Super Lawyer research team based upon third party feedback. A nomination is followed by an independent examination of the achievements of the lawyer, including verdicts/settlements, professional activity, experience, honors/awards, scholarly writings, pro bono and community service, and representative clients. Candidates who have the highest rankings based upon their nomination and independent research are then evaluated by a Blue Ribbon panel of their peers within their practice area, in this case personal injury law. When the final selection process is completed, 5% of attorneys are selected as Super Lawyers, and only 2.5% are named as Rising Stars.
John's selection as a Rising Star demonstrates that he stands at the top of his field among attorneys representing accident and personal injury victims in Arizona. He and his law firm are recognized as among the best in the state for personal injury cases.
John is a graduate of the University of Nebraska – Lincoln. He also studied economics at Oxford University (England). John graduated from Creighton University School of Law. Prior to entering private practice in 2011, he worked for the Nebraska Attorney General's Office, advocating on behalf of consumers who had suffered injuries at the hands of local businesses.
Kelly Law Team is a personal injury law firm in Phoenix, Arizona that has been recognized for excellence in recovering damages for those injured in a wide variety of personal injury matters, including truck, motorcycle and car accidents, slip and fall cases, workplace injuries, product liability cases, wrongful death, dog bites, medical malpractice and other cases. For additional information, visit the firm's website at https://www.jkphoenixpersonalinjuryattorney.com/.