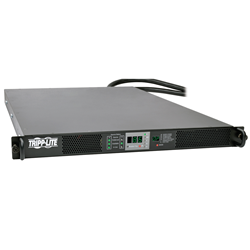 Our 3-phase rack ATS PDUs simplify network management, reduce rack congestion and decrease power needs Add a quotable
Chicago, IL (PRWEB) November 22, 2016
Tripp Lite, a world-leading manufacturer of power protection and connectivity solutions, has announced that its innovative line of 3-phase rack-mount Automatic Transfer Switch (ATS) Power Distribution Units (PDUs) has been granted U.S. Patent No. 9,467,006.
These 1U rack-mount ATS units work with compatible 0U PDUs to deliver up to 17.3 kW of redundant 208V AC power to data center servers, computers and network equipment. The ATS units also feature a network interface for remote power monitoring.
Providing redundant power to high-density, high-wattage server racks can be challenging and costly. The traditional solution for 208V server racks above 5 kW has been to connect redundant 3-phase rack PDUs to redundant power supplies in each server. Tripp Lite's patented 3-phase switching solution combines the speed of solid-state switching with the efficiency of electromechanical relay switching to create new 3-phase rack ATS solutions.
For high-density, clustered server environments, this new technology delivers high reliability, high efficiency and substantial cost savings.
Key Features:
-- Dual inputs for connection to primary and secondary 3-phase power sources
-- Hybrid solid-state switching for reliable high-speed transfer in 1 to 5 milliseconds
-- ATS processor for evaluating power source quality
-- Operational efficiency greater than 99%
-- Digital load meter and status LEDs for local monitoring
-- Built-in network interface for remote monitoring
"The benefits of this innovative patented technology go far beyond cost savings," said David Slotten, Tripp Lite Vice President of Product Marketing. "Our 3-phase rack ATS PDUs simplify network management, reduce rack congestion and decrease power needs and the associated CO2 emissions, too, giving data center designers added flexibility at a lower cost."
For more information on these ATS PDUs, visit: Tripp Lite Patented 3-Phase Rack ATS PDUs.
About Tripp Lite
Outstanding product reliability and exceptional service have been Tripp Lite trademarks for over 90 years. Tripp Lite´s innovations include the world's first UPS system designed specifically for personal computers and the world's most trusted premium surge protector—the Isobar®—with more than 19 million in use. Tripp Lite maintains the highest level of ready-to-ship inventory in the industry with more than 3,500 different products, including UPS systems, rack systems and cooling solutions, PDUs, PowerAlert software for enterprise-level system management and control, surge protectors, KVM switches, cables and connectivity products, inverters, power strips and notebook accessories. Headquartered in Chicago, Illinois, Tripp Lite maintains a global presence with fully staffed offices worldwide. Additional information, including a list of Tripp Lite's sales offices and authorized reseller partners, can be found by visiting Tripp Lite's website: http://www.tripplite.com.