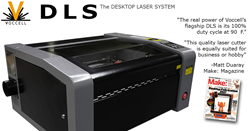 "If I had to choose only one tool for my toolbox, it would be a laser."
Lewes, DE (PRWEB) November 22, 2016
Voccell, Inc., a Lewes, DE based manufacturer of high-end laser cutters, today announced pre-orders via Kickstarter and their website for their new professional-grade laser cutter. The DLS or Desktop Laser System brings professional quality output to the home user. The DLS can cut organic materials like wood, leather, shell and paper with a laser beam finer than the width of a human hair. It can mark or engrave materials like glass, metal and stone directly. Users can create intricate 3-Dimensional objects with incredible precision at the push of a button with software like Adobe Photoshop and Illustrator or with the Auto-Trace feature, hand drawn images. The DLS is designed to be virtually maintenance free and reliable even when used for mass production in an industrial environment unlike many other laser cutters. The DLS is at home in a workshop, garage or business for hobbyists and business owners alike. During the 30 day crowdfunding campaign the DLS is available for $3499, a full $1500 less than the normal retail price.
The DLS is different than other laser cutters on the market. Many other lasers will pause, shut down or void your warranty when used in anything except an air conditioned room. Even then many must perform one operation at a time in order to prevent overheating. The DLS can be used in your garage, workshop or warehouse, in the middle of summer 24 hours a day 7 days a week at full output.
"If I had to choose only one tool for my toolbox, it would be a laser. There is nothing else like the precision, speed and ease of use for taking your idea and making it a reality," said Nathan Nguyen, Lead Sales for Voccell. "We created the only consumer friendly laser that has the same safety features and reliability as an industrial machine, in a small form factor so it can be used anywhere."
Detailed Technical Specifications
Quick Technical Specifications
Exterior Dimensions - 45" x 30" x 17" | 1125 x 762 x 431.8 mm
Weight - 150lbs | 68.18 KG
Work Envelope - 24" x 16" | 609.6mm x 406.4mm
Laser - 50w (70w Optional) Water Cooled CO2 Laser
Optics - Made In the USA
Precision - .0004" | .0125mm
Minimum Feature Size - .002" | .05mm
Maximum Engraving Speed - 400mm/s +
Maximum Cutting Thickness (1-Pass Polished Edge) - .313" | 8mm
Maximum Cutting Thickness (1-Pass Reduced Edge Quality) - .50" | 12.7mm
Maximum Material Thickness - 4.5"
Mechatronics - High Speed Stepper Motors
Duty Cycle - 100%
Frame - All Metal Construction
Phase Change Chiller - Included
Air Compressor - Included
Exhaust Fan and Ducting - Included
Final Assembly, Calibration, QC and Support in the USA
Special Features
Free Replacement Parts: An extra focus lens and mirror are included with every purchase.
Virtual Home Position: A simple checkbox tells the laser to start cutting and engraving wherever it is positioned allowing users to quickly align single item jobs without jigs or fixturing.
Visible Laser Positioning: A visible, red laser dot is projected along the same optical path of the CO2 laser so you know exactly where your cut or engraving starts.
Front Panel Access: The front lower panel of the laser can be lowered to allow materials of unlimited length to be engraved.
Side Panel Access: The side panel of the laser can be lowered to allow materials of unlimited length to be engraved.
Pass-through Rear Panel Access: The rear panel can be unbolted to allow full pass through of materials.
Auto-Trace: The DLS will automatically trace your hand drawn image so it can be used for cutting and engraving.
Warranty and Safety
12 Month Bumper to Bumper Warranty
The DLS is a Class 2 Laser During Normal Operation
Safety Interlock on Primary Door
Emergency Stop Switch
Welded Steel Housing
Negative Pressure Exhaust System Keeps Optics Clean
Air Compressor Prevents Flare Ups
Isolated Power Supply and Laser Tube