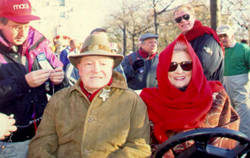 The Bob & Dolores Hope Foundation supports organizations that bring HOPE to those in need and those who served to protect our nation.
New York, NY (PRWEB) November 23, 2016
Ms. Thornton, 17, will perform in the Macy's Thanksgiving Day Parade with the Prospect High School band, the Marching Knights, in Manhattan. The Parade can be seen on NBC Thursday, November 24th at 9 a.m. – noon (in all time zones).
Macy's and the Bob & Dolores Hope Foundation have proudly presented the Bob Hope Band Scholarship Award since 2003. The scholarship is designed to honor one outstanding band member and their school band program participating in the Macy's Thanksgiving Day Parade.
The award is especially meaningful because during their lifetimes, Bob and Dolores Hope were truly honored and delighted to be featured in the Macy's Thanksgiving Day Parade and recognized for their service. Moreover, as a gifted song and dance man, Bob knew the importance of music, especially to young people.
For almost a century, Bob Hope was celebrated for his ability to make people laugh. He became one of Americas best loved entertainers rising to #1 in radio, television and films. He was a proud American immigrant who gave his time to bring a sense of home to our troops stationed around the world. Since the days of World War II, he worked with the USO to bring humanity and hope to our men and women in uniform. This is legacy of Bob Hope.
"On behalf of the Bob & Dolores Hope Foundation, and particularly on behalf of my dad, Bob Hope, I want to congratulate Hannah Thornton on her most creative essay," said Linda Hope. "I know that my parents would be very proud that such an accomplished and caring young woman was this year's scholarship recipient," she added.
In her winning essay, as Hannah tries to break her writers block she ponders what it might be like to impact her world in the same way as Bob Hope. This world class entertainer, who materializes in Hannah's story as a fantasy mentor, had uncanny humor, a strong work ethic, natural talent for song and dance and enormous self-confidence. For decades, he made this country laugh and gave back. As the two interact. Hannah is moved by his talents and realizes in her own small ways she too brings these qualities to life as a student band conductor in Mt. Prospect. Smiling, Hannah is inspired by Bob, recognizing that this world class icon, has boosted her confidence, while underscoring wonderful traits she has unknowingly demonstrated as a leader and person. Decades apart, the entertainer and drum major connect.
Hannah Thornton, grew up in Mount Prospect, IL and is presently a senior at Prospect High School. She follows in the footsteps of her older brother, a Prospect Marching Knights alumni and is serving for the second consecutive year as the PMK drum major. Her plans following high school are to continue her studies at college majoring in English.
Hannah traveled to New York City earlier this week and will perform in the Macy's Thanksgiving Day Parade with the Prospect Marching Knights. The PMK are overseen by Chris Barnum. He has served as Director of Bands since 2006. Mr. Barnum earned both his undergraduate and master's degrees in music education from the University of Illinois.
Since 1958, the Prospect Marching Knights (PMK) have been a nationally recognized, award-winning marching band. Located in Mt. Prospect, Illinois. Prospect High School (PHS) is one of six district high schools comprising Township High School District 214 in northwest suburban Chicago. The Marching Knights are part of Prospect's Fine and Performing Arts Department. In 2012, the PHS music department was designated one of the top six music programs in the nation by the GRAMMY® Foundation. Prospect received the 2012 Grammy® Signature Schools Gold award, in recognition of its demonstrated excellence in music education.
About the Bob Hope Band Scholarship
Since 2003, Macy's and the Bob & Dolores Hope Foundation have proudly presented the Bob Hope Band Scholarship. Through a written essay, each school participating in the Macy's Thanksgiving Day Parade can nominate one participating musician, auxiliary team member or drum major from their marching band program who best reflects the value and attributes that Bob Hope represented to millions of Americans, both at home and overseas. These values and attributes include musical ability, leadership initiative, sense of humor and a strong commitment to community service.
Members of the Macy's Thanksgiving Day Parade Selection Committee evaluates the essays and selected the winning recipient. The selected student will receive a $10,000. Scholarship award towards her/his education. In addition, the school band program will also receive $10,000.
The Bob & Dolores Hope Foundation support numerous humanitarian causes around the world.
About the Macy's Thanksgiving Day Parade
With more than 50 million viewers across the country and more than 3.5 million spectators that line up along the streets of New York City each year, the Macy's Thanksgiving Day Parade is a national icon that has grown into a world-famous holiday event. For 90 years, the Macy's Thanksgiving Day Parade has marked the official start of the holiday season. Growing in size and scale, the Parade proudly marches down a more than 2-mile route in New York City with more than 8,000 participants in tow including Macy's employees, their families, celebrities, athletes, clowns and dance groups spreading holiday cheer. The Parade also features America's best marching bands, fabulous floats and Macy's signature giant helium character balloons. For more information on the Macy's Parade, please visit http://www.macys.com/parade or call the Parade hotline at (212) 494-4495.
####