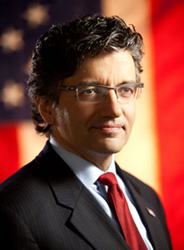 (PRWEB) November 21, 2016
Amid turmoil over the recent election results, M. Zuhdi Jasser, Founder and President of the American Islamic Forum for Democracy, speaks on the recent election of Donald Trump. http://www.mzuhdijasser.com/
"The election of Donald J. Trump has resulted in a vigorous national discussion about some of the most sensitive and significant issues facing Americans today. The American Islamic Forum for Democracy is a non-partisan organization, and works towards educating the public about issues important to Muslims devoted to reform, universal human rights, and individual liberty."
Jasser states the AIFD, "will continue to encourage the coming administration to engage reformist and liberty-minded Muslims rather than Islamists at home and abroad," just as they did with President Obama and President Bush. "Every new administration is a possibility to engage the American public in new ways and recalibrate our national security strategy domestically and abroad."
Above all, Jasser states as American Muslims, "we are proud and blessed to live in a country where women, men, and people of all faiths, belief systems, sexual orientations and identities can vote-and can do so without fear."
The American Islamic Forum for Democracy is a think tank dedicated to providing an American Muslim voice advocating genuine Muslim reform against Islamism and the ideologies which fuel global Muslim radicalization. Founded by Jasser in the wake of the 9/11 attacks, their mission is to advocate for the preservation of the founding principles of the United States Constitution, liberty and freedom, through the separation of mosque and state.
Derived from a love for America and a love of the faith of Islam, AIFD believes that Muslims can better practice Islam in an environment that protects the rights of an individual to practice their faith as they choose.
"Our staff members include conservatives, liberals and every group in between. Our shared values unite us- and it is in this spirit of unity that we have remained committed to advancing our mission regardless of the political climate we find ourselves in," states Jasser.