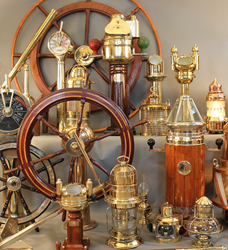 Boston, MA (PRWEB) November 23, 2016
The Lannan Ship Model Gallery will hold its last antique auction at its showroom in Boston on Saturday, December 3rd, 2016.
The Gallery, a Boston institution and grand fixture near the waterfront for over 20 years, is currently and rapidly moving its quality nautical merchandise, ship models and nautical merchandise with aggressive sales prices and an over 450 lot auction before they relocate at the end of January 2017.
Lannan Nautiques began in 1967 in the basement of a two-family colonial in the Wollaston neighborhood of Quincy, Massachusetts owned by Joseph Lannan. Joseph, a Boston Edison executive, former merchant mariner and grandson of prize fighting, bare knuckle boxer Joe Lannon, amassed a collection of antiques during his years overseas and tapped into a small collector's market by selling ship models and vintage marine instruments to customers both locally and abroad.
"People used to call me Mr. Postcard", Joe could often be heard saying after producing a post card of a photograph of his basement showroom highlighting the large variety of inventory; a tradition that the Lannan Gallery carries to this day.
An uncompromising perfectionist, Joseph employed his two young sons, Joe and Larry, while operating both his nautical antiques and tires business, South Shore Wholesale Tire, out of the home. "I had biceps when I was six years old from tossing those tires into a stack every single day", remembers Larry the current owner of the Gallery, "And we used to have to wrap a rag around our fingers to clean the grill of his Cadillac". Among other wild tasks Joseph taught the boys to learn was the art of the antique trade. When the boys were in their early teens, Joseph would load a van full of antiques to bring to the Brimfield Antique Market and have the boys do the sales while he shopped and mingled. After a few years the two sons were operating the nautical business themselves while also producing quality baked pies for trade shows first at the Boston Expo Center and then out of a stand in Faneuil Hall. When it was time for Joe and Larry to discontinue their partnership, without any squabble or uneasiness, Joe took over the pie business and Larry opened Lannan Ship Model Gallery at 540 Atlantic Avenue in the 1990s.
In 2004, after years of Big Dig woes, the Gallery moved across the street to the 99 High St. tower. Whereas the Atlantic Avenue location was most of a salty-nautical antique treasure chest, 99 High St. was outfitted to reflect a more posh and refined environment although still housing the same quality merchandise as it had for years.
Over the years as the business grew, Larry began his own auction company, Boston Harbor Auctions and after only a couple of auctions, Boston Harbor Auctions grossed its first million-dollar sale when they sold a personal collection belonging to financier J. Pierpont, "J.P." Morgan (1837-1913). A few days later Joseph Lannan Sr. passed away.
The auction business has proved a great success and Boston Harbor Auctions will continue its events after the Gallery relocates to 483 Washington St. in Norwell on the south shore of Massachusetts.
On December 3rd, Boston Harbor Auctions with Peter Coccoluto at the podium, will host a final auction at the 99 High St. showroom. The auction will feature over 450 lots of nautical antiques and quality ship models along with an 1860s oil painting of the Mary McNear by J&F Tudgay, an oil of the SS Massachusetts by Antonio Jacobsen, two figureheads, memorabilia from ocean liners such as the Mauritania and Normandie.
Bidders will be pleased to see the amount of lighting offered in the sale. There will be dozens of shiny brass, copper and steel ship's lanterns on the block as well as massive navigational beacons, a Suez Canal floodlight, and a Francis House signal light and Royal Naval representation.
Of the outstanding marine paintings on offer include an Antonio Jacobsen (1850-1921) oil on board showing the steamship "Massachsuetts". Jacobsen, one of the most well-known marine artists, is considered the "Audobon of Steam Vessels". His best work has fetched as much as $225,000.00 in recent years. The oil of "Massachusetts", surely one of his best, will be on the block at lot 220A in the December 3rd auction with an estimate of $20,000 - $30,000.
The clipper ship Mary McNear is represented in an oil painting by John (1836-1859) and Frederick (1841-1921) Tudgay, brother collaborators of the 19th century who produced British marine art both together and individually. The McNear, a 4 1/2' framed oil painting, with an estimate of $15,000 - $20,000.00, will be up for auction at lot 200b. Not to be missed!
In 2014, Boston Harbor Auctions held a two-day marine auction selling a massive collection once belonging to avid deep sea diver Tom Hering. Born of the auction's content and subsequent success spawned a network of diving enthusiasts offering items from their own collections for future auction sales. On December 3rd, three helmets will be on the block including a rare, copper Siebe Gorman helmet with patent threaded neck ring, threaded view port, breast plate with brail and wing nuts, valves and badge reading "Siebe Gorman, Submarine Engineers, London". Seibe Gorman, a British company producing diving helmets and equipment since the 1800s is noted for developing the "closed" diving helmet. Another Seibe Gorman helmet will be on the block as well as a unique "homemade" helmet of steel with windows, hoisting handle, hose couplings etc… from a New England diver and collector.
The Lannan Gallery is the reliable source for those seeking true nautical instruments and hardware. When anyone visits the Gallery they are wide-eyed in amazement at the variety of the collection of bridge instruments including engine order telegraphs and full size binnacles that come in all kinds of shapes, sizes, each one unique. A grand selection of telegraphs with sounding bells and glowing brass housing with commands in various languages of English, French, Japanese and Italian origin will be included in the auction catalog. The housing for the ship's compass, the binnacle sometimes waist high and mounted in front of the helmsman is the symbol of course direction and could have a place in every home, restaurant or hotel lobby. There are so many types of binnacles in the December 3rd auction from lifeboat size to full size, skylight tops of brass and chrome, six-sided glass with gimbaled compasses.
Many small decorative pieces that had been held back from past sales will be let go on December 3rd. The December 3rd sale is an effort to clear the space for the new phase of Lannan Gallery. Many store fixtures will be offered at the conclusion of the sale.
It will be the last local auction before the Gallery relocates at the expiration of the lease in early 2017.
See website for auction information and catalog.