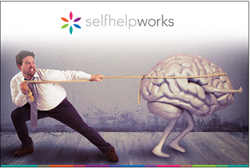 The emotional impact can be devastating...it's critical to have effective emotional tools and strategies for getting back on top.
San Diego, CA (PRWEB) November 22, 2016
November is National Diabetes Month. Behavioral change expert and founder of SelfHelpWorks, Lou Ryan, today urged diabetes program providers to incorporate cognitive behavioral training into their diabetes prevention and management programs. According to Ryan, cognitive behavioral training is a critical missing link that addresses important emotional needs of diabetics and prediabetics. These needs are not met by most diabetes prevention and management programs.
"To see why cognitive behavioral training is so critical, imagine you just got diagnosed with diabetes or even prediabetes," says Ryan. "If you're like most, you feel like your whole world has suddenly been ripped out from under you. Knowing you have a potentially dangerous condition that can lead to horrible consequences like blindness, loss of limbs and kidney failure is bad enough. But then you're also told that the only way to stop it from getting worse is to give up life as you know it. No more sugar, bread, pizza or cigarettes … a daily exercise regimen … a lifetime of blood sugar monitoring … medications and doctor visits. The emotional impact can be devastating. So you can see why it's critical to have effective emotional tools and strategies for getting back on top."
In addition to its use in providing the emotional self-empowerment strategies needed to live a happy, fulfilling life despite having diabetes or pre-diabetes, Ryan went on to point out that cognitive behavioral training has another very important use in diabetes prevention and management – creating lasting behavior change.
When asked to elaborate, Ryan had this to say: "Cognitive behavioral training is an effective method for getting rid of unhealthy habits that most people find too tough to give up for any length of time. Good examples are smoking or snacking on sugary or starchy foods. These can literally kill a diabetic over time. But knowing you need to stop is very different from actually stopping – as evidenced by the fact that chronic obesity is so prevalent in the diabetic population. That's where cognitive behavioral training comes in – it's highly effective in breaking what neuroscience calls the 'cognitive trained response' that keeps people tied to their unhealthy foods or cigarettes. It's also significantly more cost-efficient than visiting a therapist for cognitive behavioral therapy, or CBT."
So what is cognitive behavioral training, and how exactly does it work?
Cognitive behavioral training is a structured process that empowers you to replace the dysfunctional beliefs, thought patterns and resulting emotions that disempower and inhibit you from changing a habit or a lifestyle. In essence, it retrains the brain to respond mindfully to triggers, with thoughts that create empowering emotions. This moves you to make conscious, rational choices rather than self-defeating emotional decisions. In other words, cognitive behavioral training attacks unwanted behaviors at their root, without the need for willpower. The result is a change in mindset and a new cognitive trained response that delivers an increase in confidence and self-efficacy. And once the new cognitive response becomes a habit, lasting behavior change occurs.
SelfHelpWorks uses a proprietary version of cognitive behavioral training in its online courses developed for diabetes management, tobacco cessation, weight loss and healthy eating, exercise, alcohol management, and stress management and resiliency. A course for sleep has also been developed utilizing cognitive behavioral training and will soon be released.
The high rate of diabetes in the US is reaching epidemic proportions, with diabetes and prediabetes affecting an estimated 30 percent of adult workers. Diabetes takes a massive economic toll, and can lead to complications and serious health consequences like blindness, amputations, kidney and heart disease, stroke and heart attack, and many other issues.
Roughly 30 million people in the US - 9.3% of the total population - are currently living with diabetes. But, perhaps more alarming, are the projections for the future if the current trend continues. Approximately 86 million people in the US have prediabetes, a precursory condition to type 2 diabetes. According to the Centers of Disease Control and Prevention (CDC): "Without intervention, 15% to 30% of people with prediabetes will develop type 2 diabetes within 5 years."
The good news is that successful management or even reversal of prediabetes is achievable for most people already diagnosed, and prevention of type 2 diabetes is possible for the majority of those considered to be at risk. Yes, the staggering projections for future diagnoses are largely avoidable, but it depends on a concentrated and effective effort to change the unhealthy habits and lifestyles that are responsible for as many as nine out of ten new diagnoses.
The CDC has recognized the need for swift action and should be lauded for the creation and implementation of the National Diabetes Prevention Program (NDPP). The NDPP emphasizes the importance of healthy lifestyle change for people at risk of developing type 2 diabetes. However, it focuses primarily on weight loss and exercise, and does not emphasize the importance of addressing the crucial emotional aspects of lifestyle change.
ABOUT SELFHELPWORKS, INC.
SelfHelpWorks is the leading provider of online video-based lifestyle and disease management interventions for reducing population health risk. The interventions produce sustained behavior change using an evidence-based cognitive behavioral training approach derived from cognitive behavioral therapy (CBT). They target important issues such as obesity and unhealthy eating, tobacco addiction, diabetes, chronic stress, alcohol abuse and inactivity. The interventions are primarily offered by corporations interested in improving employee health and productivity, and by top tier value-based health and wellness providers. Users can access them privately and conveniently 24/7 via computer, tablet or smartphone.