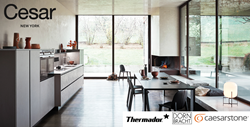 New York, NY (PRWEB) November 23, 2016
Cesar New York, the North American flagship for Italian kitchen cabinetry company Cesar, will host a continuing education event in its New York City showroom on Wednesday, November 30. The event is geared toward architects and designers, who may earn credits for attending, and will focus on shower and tub systems, food preservation, and quartz resurfacing basics, each worth one unit of credit.
The event, which is free, includes lunch and refreshments and will take place from 11:30 am to 4:30 pm. The day includes three panels. The first, titled "Learn How to Configure Shower Systems & Tub Systems –Thermostatic and Pressure Balanced," will offer an understanding of different shower applications and when to choose thermostatic valves or pressure balanced valves. The first half of this section of the day will center around how each valve works, highlighting the differences between the two, and when to use diverters. The second half of the course will focus on identifying and configuring optimal shower setups for particular spaces and desired experiences.
The second part of the day, titled "The Art of Food Preservation," will teach participants about the evolution of modern home refrigeration and how it has influenced kitchen design. Participants will learn about the design implications of today's food preservation systems, will examine construction and installation techniques unique to built-in food preservation systems, and will forecast future design and functionality for cooling, freezing, and wine storage units.
The day will be rounded out with a course on quarts resurfacing, titled "Quartz Resurfacing Basics." The course will teach attendees to identify quartz surfacing materials and will inform about quartz composition and manufacturing. Attendees will also learn about quartz surfacing capabilities and applications, fabrication issues, and general industry trends.
Those interested in attending the day of classes may register before November 29th via Eventbrite HERE.
Cesar New York is Cesar Italy's North American flagship location. Cesar is a luxury European kitchen cabinet company that produces extremely high quality contemporary kitchen cabinet and kitchen storage solutions. Cesar New York's showroom is open to trade designers and to the public. It is located at 50 West 23rd Street, New York, NY 10010.