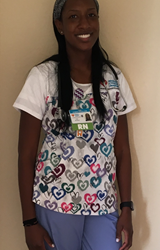 More than 3,000 MCHS employees participate in the standardized uniform initiative
(PRWEB) November 22, 2016
Uniform Advantage (UA), partners with Miami Children's Health System (MCHS) to design a custom print and standardize uniform colors by job function. The uniform showcases the new branding of the health system's flagship facility, Nicklaus Children's Hospital, and its network of outpatient centers.
UA worked with MCHS to launch the health system's first standardized uniform program, which was implemented at all system facilities, including the 289-bed Nicklaus Children's main campus and nine outpatient centers, extending from southern Miami-Dade County to Palm Beach County.
As a result of the organization's commitment to providing its staff as much variety as possible, the program features a one-of-a-kind printed scrub top design. UA's in-house design team presented the concept of incorporating the new Nicklaus Children's logo design elements in a custom print that could be worn by all clinical departments. The printed scrub top features hearts in each of UA's classic color selections assigned to a department under the new uniform program. The flexible print design allows each team the option of the print top with a solid pant, or a solid top and solid pant. The "You've Got Heart" top is sold exclusively to Nicklaus Children's employees.
As of July 11, 2016 more than 3,000 MCHS employees participated in the standardized uniform initiative. The uniform program is supported by UA with a custom web portal where employees can go online, select a department, and view available uniform options. Employees are also able to shop at one of UA's 9 South Florida retail locations where additional services include free ship-to-store orders and payroll deduction.
Every month, UA features an extraordinary healthcare professional as the Scrub Superstar of the month on their blog and social sites. October's Scrub Superstar of the month, Shamira works as a Registered Nurse at Nicklaus Children's Hospital.
For more information on Uniform Advantage's uniform programs, visit their website or UA Corporate Solutions.
About Uniform Advantage
Uniform Advantage has represented style, quality and, above all, customer satisfaction for more than 30 years. As the first division of UA Brands, the chain was launched with a single South Florida store in 1985. Today, the company operates 29 retail locations in key markets across the U.S.; e-commerce and print catalog divisions; plus designs and manufactures its own proprietary healthcare apparel lines. The company's corporate office is based in Plantation, Florida with a distribution center near Atlanta, Georgia. Learn more at http://www.UniformAdvantage.com or by calling 800-283-8708.
About Miami Children's Health System
Founded in 1950 by Variety Clubs International, Nicklaus Children's Hospital, part of Miami Children's Health System, is South Florida's only licensed specialty hospital exclusively for children, with more than 740 attending physicians and over 220 pediatric subspecialists. The 289-bed nonprofit hospital is renowned for excellence in all aspects of pediatric medicine and routinely has many programs ranked among the nation's best by U.S. News & World Report. The organization has grown and evolved into the Miami Children's Health System (MCHS) which includes Miami Children's Health Foundation, the organization's 501c3 fundraising arm; a network of 10 nonprofit outpatient centers situated in Miami-Dade, Broward and Palm Beach counties; Pediatric Specialists of America, a nonprofit physician practice subsidiary; a management services organization, and an ambulatory surgery center, as well as an e-commerce line of children's wellness and safety products that support the hospital's mission of serving the region's pediatric population. MCHS is the region's only healthcare system exclusively for children.