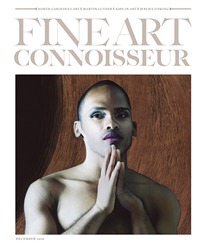 "Chévere isn't cool, it's hot. It's a perfect metaphor to express passion through the use of vibrant and emotional colors, intense and lusty eye contact, and compassionate strokes of paint". —Artist Nadine Robbins
Hallandale Beach, FL (PRWEB) November 22, 2016
Opening reception December 3rd, 2016 at 6pm. SIRONA FINE ART, HALLANDALE BEACH. info(at)sironafineart.com
Sirona Fine Art, the largest Florida gallery of contemporary representational art, hosts a show of personal and cultural visions of what it means to be Latin and Cool. The result is upbeat, positive, reflective, not overtly political but rather more explorations of the human side of this theme. "Chévere" is covered in the December 2016 American Art Collector Magazine, The Huffington Post, and "Chévere" artist Erin Anderson is the cover of the Nov./Dec. 2016 issue of Fine Art Connoisseur Magazine. There will be over a dozen of artists in attendance from New York, Chicago, Boston and elsewhere. The evening begins with an artist's panel talk beginning at 6pm.
Chévere" curated by Didi Menendez and collaborator Sergio Gomez, manifests as an issue of Menendez's PoetsArtists Magazine, and as an exhibition at Sirona Fine Art. Menendez herself is a Cuban expatriate. Some of the participating artists are from Latin America, others not. Therefore some of the artists draw on memory and experience of their own countries and peoples, and others on their encounters with cultures foreign to their own, and others still on imagination and images cobbled together from film and art and literature. The project becomes a great act of communion and empathy, a celebration of being together.
— Daniel Maidman, Huffington Post
"My original intent for the show was to bring a culture—a culture which carries the Latin American spirit—to the art world. It's a spirit which many of our museums and cultural institutions seem to lack or bypass," states Cuban-born editor/curator Didi Menendez.
Nadine Robbins, one of the artists of the evening comments: "Chévere isn't cool, it's hot. It's a perfect metaphor to express passion through the use of vibrant and emotional colors, intense and lusty eye contact, and compassionate strokes of paint".
"Chévere" opens Sirona Fine Art's 4th year in Florida, and is an outstanding example of our attempt to bring to the public some of the best in contemporary representational artists working today. The artists range from the young to the established, including artists such as Tim Okamura who has exhibited at the Smithsonian National Portrait Gallery. Some of the artists on view: Jules Arthur, Tim Okamura, Victoria Selbach, Sylvia Maier, Joseph Lorusso, Eloy Morales, Dorielle Caimi, Reuben Negron, Suzy Smith, Sergio Gomez, Jason John, Erica Elan Ciganek, Santiago Galeas, Nick Ward, Matthew Cherry, Nadine Robbins, Omalix, Elizabeth Claire Ospina, Elsa Muñoz, Santiago Corral, Michael Van Zeyl, Javier Chavira, Aneka Ingold, Miranda Graham, Rene Romero Schuler, Daena Title, Carmen Chami, Sharon Pomales, Paola Estrella, Tanja Gant, Irvin Rodriguez, Katalin Studlik, Mary Jones Easley, Alia El-Bermani, Erin Anderson, Yunior Hurtado Torres, Gig Depio, David E. Olivera, Fidel Rodriguez, Carlos Ramirez, Dewayne Weise, Ernesto Marenco, Debra Balchen, Brett F. Harvey, Geraldine Rodriguez, Debra Livingston and Liza Berggren.
Poetry in the publication include works by Ana Menendez, Joe Amato, Grace Cavalieri, David Lehman, Nin Andrews, Kelsey Robarts, PF Potvin, Ivy Alvarez, Geffrey Davis, and Lauren Amalia Redding.
"Chévere" Group Exhibition. Opening Reception on Saturday, December 3rd from 6-9pm. An Artists Panel discussion begins at 6pm, sponsored by Fine Art Connoisseur Magazine. The exhibition will be on view from December 3, 2016 through February 3, 2017 at Sirona Fine Art – a grand showcase for artists who embrace classic structure, yet have an understanding and facility within the modernist landscape. Located in The Village at Gulfstream Park, 600 Silks Run #1240 in Hallandale Beach, Florida 33009. RSVP for the Opening Reception: info(at)sironafineart.com. See and learn more at http://www.sironafineart.com or call (954) 454-9494. For media inquiries, to schedule an interview or receive additional information, please contact: Timothy Smith, info(at)sironafinerart.com (954) 454-9494.
PoetsArtists #77
Print copies available as a print-on-demand.
http://www.blurb.com/b/7418277-pa77