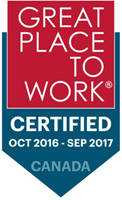 "Creating a culture in which employees are valued and a work-life balance is encouraged has long been a major element of our success," explained Peter Pekos, President and CEO.
Toronto, Canada (PRWEB) November 22, 2016
Each year, Great Place to Work Canada conducts anonymous employee surveys to gain direct feedback on their workplace experience. Those companies that best demonstrate a work culture where employees trust the people they work for, have pride in what they do, and enjoy the people they work with are then certified a Great Place to Work.
This is the first year that Dalton has participated in the Great Place to Work Canada survey, and we are excited to be recognized as one of this year's Best Workplaces in Canada alongside other leading Canadian companies. Employees throughout the company provided top ratings on their workplace experiences and culture. This is an important achievement for Dalton because our employees are telling us that we have cultivated an environment that is good for them and for our customers.
"Creating a culture in which employees are valued and a work-life balance is encouraged has long been a major element of our success", explained Peter Pekos, President and CEO. "It has played a major role in attracting and retaining talented people from around the world, and has been critical in our ability to provide exceptional expertise for our customer needs. They share an inspiring "CAN DO" attitude and a desire to support the pharmaceutical industry in developing life-saving medicines."
About the Great Place to Work Institute:
Great Place to Work Institute is a global research, consulting and training firm that helps organizations identify, create and sustain great workplaces through the development of high-trust workplace cultures. We serve businesses, non-profits and government agencies in more than 50 countries on all six continents.
Our clients are those companies and organizations that wish to maintain Best Company environments, those that are ready to dramatically improve the culture within their workplaces, and those in between the two. We know that organizations that build trust and create a rewarding cycle of personal contribution and appreciation create workplace cultures that deliver outstanding business performance.
For information on Great Place to Work® Institute please visit: greatplacetowork.ca
About Dalton:
Dalton Chemical Laboratories Inc. o/a Dalton Pharma Services is a Health Canada approved and FDA registered GMP contract service provider of integrated chemistry, drug development and manufacturing services to the pharmaceutical and biotechnology industries. We bring 30 years of experience to our client's projects and emphasize quality, speed and flexibility.
Dalton can accelerate your drug discovery and development program by integrating process development, API manufacturing and finish dose manufacturing all at a single location. Our full range of services in-house (drug discovery, flow chemistry, formulation and process development, custom synthesis,cGMP sterile fill/finish, cGMP API manufacturing and/or dosage form manufacturing) all at one location enables us to be adaptable, flexible and cost-effective. To learn more about Dalton visit http://www.dalton.com.
Our CMO 2016 Leadership Awards in the categories of Quality, Reliability, Capabilities, Expertise and Compatibility including "On-Time Delivery" and "Right First Time" from Life Science Leader reflect our ongoing commitment to our clients, peers and the business community.