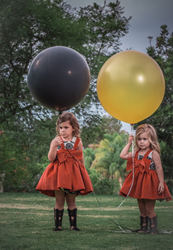 Yorba Linda, CA (PRWEB) November 22, 2016
Celebrity-loved ModerneChild Shoppe unveils its stylish holiday line for the fall and winter seasons for mini fashion mavens to enjoy. Each piece brings out the inner beauty of a child through their outer style, instilling confidence in girls and enabling them to show their individual personalities through trendy and fun styles that are also very affordable.
ModerneChild Shoppe specializes in beautiful, reasonably priced styles that cannot be found anywhere else. The unique boutique carries stylish clothing and accessories for girls, as well as select mommy-and-me outfits for budding fashionistas.
This year's holiday collection is a blend of comfort and style for children, with most pieces easily mixed and matched to create multiple outfits. From dresses and outerwear, to accessories such as hats, sunglasses and hairbows, the collection includes the very Jackie-O, eye-catching plaid suede Alyssa dress, perfect for any 'little lady' this holiday, as well as the top holiday pick, the Ruby Suspender Bow dress, made of soft velvet that can be worn at two different lengths.
Celebrities also flock to ModerneChild Shoppe. ABC's The Bachelor in Paradise Star, Amanda Stanton, loves the shoppe and recently participated in a photoshoot for ModerneChild. She was also seen with her daughters who were wearing the gorgeous Nadia Red Eyelet dress at Disneyland to celebrate Amanda's engagement to Josh on The Bachelor in Paradise.
Both of Tori Spelling's daughters, Hattie and Stella, have been seen wearing the stunning Vivienna Dress and Paulina Olive Green Tutu Skirt in Paris. This spring, Jennifer Farley's little daughter Meilani looked gorgeous in the Romey Dress at Jennifer's second baby shower this past spring.
For founder Kim Landi, fashion, comfort and affordability are top priorities. "At ModerneChild Shoppe, we believe that every girl is beautiful inside and out and can exude impeccable style. Through a chic yet comfortable outer style, we hope to help girls see their own beauty and build their confidence. That's why we carefully hand-pick each piece we sell, and are confident we have something for every child at every price point," says Kim.
About ModerneChild Shoppe
Boutique owner Kim Landi has been a lover of fashion since she was a child. As a hard-working certified public accountant and mother of two beautiful girls, she spent a great deal of time styling outfits for her little ones and learning about kid's clothes and fashion trends. She began posting pictures of her stylish children on Instagram and soon garnered a large and loyal following. The social media attention encouraged Kim to create her own online children's boutique, and with that ModerneChild Shoppe was born. Two years later, ModerneChild Shoppe continues to increase in popularity. Kim believes that every little girl should feel beautiful both inside and out and their styles are meant to help children achieve a healthy self-esteem and encourage girls to express their unique style.