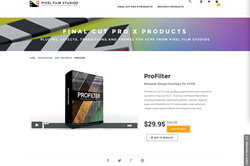 ProFilter is a set of color grading magnification tools that allow FCPX editors to create unique layered effects with complete ease
Aliso Viejo, California (PRWEB) November 30, 2016
"ProFilter is a set of color grading magnification tools that allow FCPX editors to create unique layered effects with complete ease," said Christina Austin - CEO of Pixel Film Studios.
ProFilter combines magnification, color grading tools, and mask shapes to create a unique effect for pictures and video. Magnify the media up to 400%. Choose from 6 different color grading options including threshold, sepia, negative, gradient colorize, brightness, and desaturate. And lastly choose from 13 different shape mask types.
Using ProFilter is easy in Final Cut Pro. Start by placing media in the FCPX timeline and placing a preset above the picture or video file. Next, utilize the on-screen controls to position the mask and magnification center point. Lastly, adjust the magnification amount and customization options available in the inspector menu.
ProFilter presets all feature an on-screen control that allows editors to easily position and rotate the featured mask shape. In additionally, each mask type features unique customization options that help to create different patterns in various sizes.
Because ProFilter presets are built as a titles, all the layers below ProFilter presets will be affected. This allows Final Cut Pro X editors to stack presets and create unique looking effects with varying amounts of magnification and color grading. Stack presets with varying shapes and color styles to create awesome effects.
Established in 2006, Aliso Viejo, California-based Pixel Film Studios is an innovative developer of visual effects tools for the post-production and broadcast community. Their products are integrated with popular non-linear editing and compositing products from Apple FCPX. Apple, the Apple logo, Mac OS X, and Macintosh are registered trademarks of Apple Inc. in the U.S. and/or other countries. All other trademarks and trade names are the property of their respective owners.