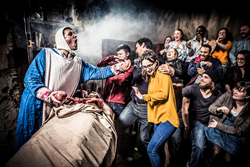 Live entertainment and free San Francisco Dungeon tours for all blood donors on January 6, 2017!
San Francisco, CA (PRWEB) November 30, 2016
The San Francisco Dungeon on Fisherman's Wharf provides a new and out-of-the-ordinary way to donate blood this holiday season. They've partnered with The American Red Cross in this day-long initiative to scare the fear away from giving blood and have a terribly fun time doing it.
When: Friday, January 6, 2017 from 12 to 6pm.
Where: Fisherman's Wharf at 145 Jefferson Street, San Francisco, CA 94133
The American Red Cross is setting up shop on The Dungeon's second floor event space overlooking The Wharf, providing locals and visitors alike the opportunity to give the gift of life. In exchange, The Dungeon is offering complimentary vouchers to tour its underground attraction featuring the newly opened Escape Alcatraz drop ride and show – the only one of its kind in North America.
The Dungeon's cast of surly Barbary Coast characters – including the infamous Black Plague Doctor – will provide entertainment for all donors; a rare treat to catch them above ground for this special blood giving occasion.
All blood donors receive a voucher for a complimentary visit to the Dungeon, plus a long-sleeved American Red Cross holiday t-shirt and refreshments. To sign up, go to http://www.redcrossblood.org and enter sponsor name DUNGEON.
TOP 10 REASONS TO GIVE BLOOD:
1. Free refreshments and a tour of The San Francisco Dungeon – duh
2. It's easy and convenient – only takes an hour; with bonus of a San Francisco Dungeon tour
3. Weigh less – one pint less than when you came in
4. It's something you can spare – yet not enough to go around
5. No one can ask you to do heavy lifting – as long as you wear your bandage, milk it
6. Walk a little taller afterward – feel good knowing you helped save a life
7. Ensure that blood is there when needed – one donation yields red cells, platelets and plasma
8. Give a gift that costs nothing – money can't buy blood; it's only something we can give to each other
9. Be someone's hero – save up to three lives in just one donation
10. It's the right thing (and fun thing) to do at The San Francisco Dungeon on January 6, 2017!
About The San Francisco Dungeon
The San Francisco Dungeon is the first attraction of its kind in North America and brings to life the stories of the Barbary Coast with a full theatrical cast, special effects, gripping storytelling, 360-degree sets and an underground boat ride. The San Francisco Dungeon is the ultimate live action journey through the Bay Area's murky past where the audience is part of the show. The attraction is open 365 days a year and located on San Francisco's Fisherman's Wharf at 145 Jefferson Street. Fully-ADA accessible. Best for ages 10 and up. For more information, visit: http://www.thedungeons.com/sanfrancisco.
###
Contact Mortar Agency for tours, photos and more information:
Trisha Clayton, 415-346-4565
t.clayton(at)comcast(dot)net
Cameron Rogers-Polan, 310-995-0045
cameron.rogerspolan(at)yahoo(dot)com