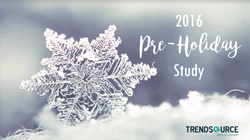 (PRWEB) November 23, 2016
While 79% of shoppers are deterred from entering physical stores by crowds and holiday traffic, 46% can be drawn to store by in-store events, according to TrendSource Trusted Insight's recent Pre-Holiday Consumer Insights Study. Surveying nearly 3,000 consumers, the study found that 32% of holiday shoppers planned to spend more this year, and while that should make retailers rejoice, it will prove challenging to draw consumers in-store as so many of them are turning to online shopping. Indeed, 54% of respondents indicated that online would be the primary if not exclusive means of their holiday shopping—and they are increasingly using mobile devices to do it. This year, respondents cited a 6% increase (from 15% in 2015 to 21%) in their intent to use mobile as their primary shopping channel, which is great news for Amazon as it inches ever closer to truly becoming a one-stop shop among a significant portion of our respondents. The e-commerce giant was listed again as a top-three primary destination across the three most popular gift categories—fashion, electronics, and toys. For more in-depth details surrounding budget intentions, sales and discount perceptions, and whether consumers prefer to receive gift cards, download the full study here.
About TrendSource Trusted Insight and This Study:
TrendSource Trusted Insight provides business intelligence, customer experience insight, compliance solutions, and other market research and data analysis programs that deliver measurable ROI. With over twenty years of experience, TrendSource Trusted Insight's customized solutions deliver high quality Customer Experience Management Programs that quantify service gaps, provide prescriptive/corrective solutions, identify trends, and provide actionable solutions through enhanced reporting and analysis. TrendSource Trusted Insight has the unique distinction as a market research organization that is an ISO 9001:2008 certified company.
Methodology:
TrendSource Trusted Insight conducted this research study by surveying North American Field Agents in The Source database between October 16 and November 6, 2016. The results represent 2,969 online respondents, 18 years and older who opted in to participate voluntarily.