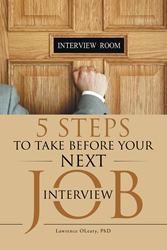 ST. LOUIS (PRWEB) November 28, 2016
With the job market more competitive than ever, candidates need to possess the useful knowledge of current interview practices prior to their job interviews. A consulting Industrial/Organizational Psychologist, Dr. Lawrence O'Leary, noticed a growing trend in the format many organizations were utilizing when looking for new hires.
Upon further research, Dr. O'Leary found 76% to 95% of Fortune-1000 organizations report using the same competency based interview format to fill jobs. With his findings, he realized he could greatly inform job seekers what to expect in interviews and how to properly prepare for them which are found in his new book, "5 Steps to Take Before Your Next Job Interview."
When readers complete the book, they will possess a-number-of valuable tools to use in preparing for a job interview including:

Awareness of what interviewers are looking for
Knowledge of the major format that characterizes many of the questions asked
Straight forward list of action steps to prepare for interviews
Familiarity with the other tools and tests utilized in the interview process
Review of the major types of interview errors that Dr. O'Leary and other interviewers have observed
Veterans will also greatly benefit from the book with an entire chapter devoted exclusively to them that showcases and demonstrates how Veterans have the ability to present the value of their specific military experiences for specific civilian jobs.
"Whether you are a new graduate looking for your first job, an experienced person between jobs or if it's been years since your last interview, there is useful information for you," said Dr. O'Leary. "I have written this book to use my decades of experience in interviewing and employment testing to tear back the curtain of mystery about today's employment interview."
"5 Steps to Take Before Your Next Job Interview"
By Lawrence O'Leary, PhD
ISBN: 978-1-4917-6292-9 (SC), 978-1-4917-6293-6 (HC), 978-1-4917-6294-3 (E)
Available at iUniverse and Amazon
About the author
Lawrence O'Leary, PhD, is a consulting industrial/organizational psychologist and the director and founder of his own consulting corporation. He's the author of four previous books on employment and has taught seminars, as well as undergraduate and graduate courses, and supervised graduate interns at the University of Missouri-St. Louis, Washington University-St. Louis, Webster University, Southern Illinois University and St. Louis University. He is married and has three children and lives outside of St. Louis, Missouri.
For review copies and general inquires please contact:
LAVIDGE – Phoenix
Lauren Dickerson
ldickerson(at)lavidge(dot)com
480-998-2600