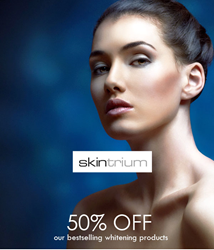 New York, New York (PRWEB) November 23, 2016
Complexions don't have to be complex, especially not with Skintrium's Exclusive Black Friday Sale. Anyone looking to clear up their skin in preparation for the upcoming holidays should look no further. Starting on Wednesday, November 24th, at 6:00 pm EST, Skintrium will offer discounts of up to 50% off select products site wide. This limited sale will run until Monday, November 28th, and end at 11:59 pm EST.
The holiday season can be particularly stressful on not only the body, but on the skin as well. Visiting family members, eating rich meals, and indulging in holiday cheer can be great for the soul, but can also bring out previously hidden blemishes on the skin, such as age spots and acne scars. Shop Skintrium's line of cosmetic enhancing products this week and cash in on major savings. In addition to the slashed prices of products across the entire site, customers can also enjoy free shipping on all domestic orders of $100 or more.
Skintrium believes that the foundation of beauty lies within the individual. Unfortunately, age, sun, hormones, radiation, and acne are all elements that affect our exteriors, and make feeling beautiful a more difficult endeavor. With Skintrium products, promoting one's natural beauty that already lies within is no longer an issue.
Skintrium's unique line of facial lightening creams, rejuvenating serums, and corrective cleansers help alleviate insecurities and bring out the inner beauty that shines within all of their clientele. This week, achieving that special feeling is easier than ever, with select products marked down to 50% off regular prices. All sales for this promotion are final, with no returns or exchanges offered. Fair & Flawless and Skin Soho Face and Body Kits will not be eligible for the the 50% discount, nor will combinations of offers, or the application of rewards points. To take advantage of the sale, use promo code FLAWLESSFRIDAY50 upon checkout.
Shop for yourself, family, and friends at Skintrium.com and enjoy the holidays.