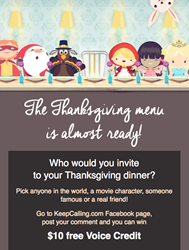 The $10 Voice Credit prize never expires and can be used for calls to any country in the world.
Atlanta, Georgia (PRWEB) November 23, 2016
Thanksgiving is almost here and it will come with its traditional dinner, delicious food and warm gatherings, but also with a fun contest. KeepCalling.com is inviting all Thanksgiving enthusiasts to let their imagination run wild for the chance to win a prize consisting of $10 calling credit.
All the participants need to do is think of the person they would most like to invite to their Thanksgiving dinner and post their answer in a comment on KeepCalling.com's Facebook page: http://www.facebook.com/Iamhomesick. The special guest can be anyone in the world, living in the present or in the past, real or imaginary.
The contest ends today, November 23rd, and the lucky winner will be chosen randomly. He/she will be announced on Thanksgiving Day, just in time to call all his/her loved ones and wish them "Happy Thanksgiving!". The $10 Voice Credit prize never expires and can be used for calls to any country in the world.
Besides the lowest rates out there, KeepCalling.com also offers several calling options. The $10 Voice Credit can be used to make calls from:
any phone through the use of access numbers,
any computer through the Web Call application, or
any smartphone using KeepCalling.com's free app, available for both iOS and Android devices.
Customers are happy both with the quality and with the prices offered by KeepCalling.com. On Trustpilot, a famous review site, KeepCalling.com receives constant feedback from its customers and currently has an 8.4 rating. One customer writes, 'Good quality service. Great on the road and at home. Exceptional voice clarity. I recommend KeepCalling to people that want a better calling experience.'
To find out more about KeepCalling.com's newest offer and campaigns, customers are invited to visit their blog at blog.keepcalling.com or to follow them on:

Facebook.com/Iamhomesick
Twitter.com/KeepCalling
Plus.Google.com/+KeepCalling
About KeepCalling.com:
KeepCalling.com is an interactive website designed by KeepCalling, a global telecommunications company registered in 2002 in USA. Presently, KeepCalling provides its services to hundreds of thousands of consumers and businesses, with a focus on customer satisfaction. KeepCalling was listed by Inc 5000 as one of the fastest growing companies in the USA for 5 consecutive years.