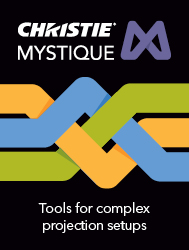 As visual systems increase in complexity, Christie Mystique Install helps our customers create and maintain the experience they envisioned.
ORLANDO, Fla (PRWEB) November 24, 2016
Christie® has simplified the process of creating spectacular large-scale visual experiences by combining its industry-leading tools and expertise into Christie Mystique Install, which will be demonstrated at the IAAPA Attractions Expo 2016, November 15-18, in Orlando, Florida. Christie Mystique is a suite of software, hardware, and services that applies Christie's expertise and technology to support complex projection applications.
Mystique Install provides automatic stacking and edge-blending solutions designed to meet the demands of the most sophisticated projection jobs, with the highest visual quality that Christie customers have come to expect. From simple flat-screen applications to court and ice projection mapping in sports venues, giant-screen dome theaters, and theme park dark ride attractions, Mystique Install delivers the tools and services needed to eliminate time-consuming and complex manual alignment, which speeds setup and dramatically reduces downtime due to maintenance.
Mystique Install is currently available in four editions:

Essentials Edition is an easy to use, single camera warping and blending application that supports up to 12 projectors in a 2 x 3 stacked configuration on flat surfaces.
Pro Venue Edition provides projection stacking and edge blending on flat and cylindrical surfaces, and includes features designed to simplify ice and court projection mapping projects.
Premium Edition offers an expert level multi-camera warping and blending solution ideal for projection stacking and edge blending complex projection systems on flat, curved and custom smooth screens such as domes.
Large Scale Experiences (LSE) Edition provides the ultimate level of control for the most demanding multi-projector applications such as theme park dark ride attractions and giant-screen dome theaters. The LSE Edition provides advanced content layout modes and electronic black level blending tools to ensure the highest-level image quality.
"As visual systems increase in complexity, Christie Mystique Install helps our customers create and maintain the experience they envisioned," says Curtis Mutter, solutions manager, Christie. "From pre-game or half time on-ice or on-court projection mapping during a hockey or basketball game to a thrilling immersive dark ride at a theme park, Mystique Install makes it easier to set up and manage systems that use multiple projectors and screens."
In delivering customized end-to-end solutions, Christie Mystique helps customers produce the most imaginative and exhilarating experiences possible while supporting Christie integrators looking to remove the complexities of providing a system like this for their customers.
Attendees visiting Christie booth 264 at IAAPA will see a demonstration of Mystique Install - Large Scale Experience Edition's speed and accuracy on a to-scale model of a theme park dark ride. Christie will also preview automated calibration technology for complex 3D projection mapping projects.
IAAPA attendees can also visit booth 1366 where the Themed Entertainment Association will feature a Christie Velvet® Apex Series 1.2mm LED video wall and the Electrosonic booth (867) where a Christie Pandoras Box will power a Christie Velvet Merit Series 1.9mm LED video wall. Triotech, at booth 3254, will have two blended Christie HD14K-M projectors on display while MediaMation, in booth 1065, will use a Christie Mirage WU12K-M projector in a 3D theater.
About Christie
Christie Digital Systems USA, Inc. is a global visual and audio technologies company and is a wholly-owned subsidiary of Ushio, Inc., Japan, (JP:6925). Consistently setting the standards by being the first to market some of the world's most advanced projectors and complete system displays, Christie is recognized as one of the most innovative visual technology companies in the world. From retail displays to Hollywood, mission critical command centers to classrooms and training simulators, Christie display solutions and projectors capture the attention of audiences around the world with dynamic and stunning images. Visit http://www.christiedigital.com.
Follow us:
Twitter.com/christiedigital
Facebook.com/christiedigital
Linkedin.com/company/christie-digital-systems
Youtube.com/christiedigital
Instagram.com/christiedigital
#christiedigital
"Christie" is a trademark of Christie Digital Systems USA, Inc., registered in the United States of America and certain other countries.
DLP® is a registered trademark of Texas Instruments