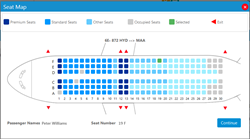 Los Altos, CA (PRWEB) November 28, 2016
SutiTravel, a leading travel booking service provider, is excited to unveil the latest features intended to provide customers with a seamless travel experience.
Feature Enhancements include:
Seatmap
Users can now book a seat of choice. The solution allows users to view available seats with access to a real-time seating chart.
SutiTravel includes a color coding system with each seat color coded making it easy to select the right seat.
Travel insurance
SutiTravel now offers insurance to its customers. We have links with various insurance service providers that offer insurance policies to travelers. Input trip details into the system and the rest will be handled by our solution.
Paytm integration
SutiTravel has been integrated with a new payment gateway – Paytm. Travelers can now book tickets directly from Paytm, providing the fastest service possible.
For more information, please visit https://www.sutitravel.com
About SutiSoft
SutiSoft provides a comprehensive suite of cloud-based business platforms and solutions for companies of all sizes. These platforms include scalable and easy-to-use solutions for HR, Employee Travel & Expense, Wireless Spend Management, CRM, Document Management, Business Data Analytics, and Electronic signature. Our platforms and solutions enable small, mid-size, and large enterprise customers to control costs, save time and assist in making smart business decisions. Headquartered in Los Altos, California, SutiSoft also has regional offices in Germany, India, and Japan. For additional information visit our website at http://www.sutisoft.com.