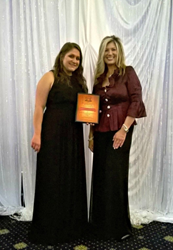 Atlanta, GA (PRWEB) November 28, 2016
mRELEVANCE, LLC was honored by the Home Builders Association of Greater Chicago with two SAMMY awards for marketing at the recent SAMMY and Key Awards banquet. The awards are:

Marketing Campaign/Promotion of the Year: The Cinco de Mayo Open House for Greenscape Homes was promoted as an eblast and emailed out to Chicago-area brokers as an invitation for a Cinco de Mayo themed event. Bright colors and fun patterns were used to catch the eye of the agents and also reinforce the Mexican theme. Boldly colored text was used to highlight the big draw of a $1,000 gift card giveaway. High-quality photos were used to showcase the homes that Greenscape builds.
Event of the Year: The Greenscape Homes Broker Open House campaign was created to drive brokers to a specific open house event for Greenscape Homes. An eblast was sent to Chicago-area brokers and agents advertising an open house luncheon. The VIP eblast was created to provide an initial interest in the event by creating a VIP allure for those that chose to attend.
mRELEVANCE also received three Honorable Mention awards for:
Sales Brochure – Greenscape Homes Missing Piece
Website Design – Gallagher & Henry
Website Design – Gerstad Homes
Mitch Levinson, managing partner of mRELEVANCE, LLC commented, "It's exciting to be recognized among our peers for both marketing and web efforts. We can't wait to see what the coming year will bring to the Chicago home building industry and mRELEVANCE."
The Home Builders Association of Greater Chicago's SAMMY and Key Awards celebrate their 44th anniversary in 2016. The awards began in 1972, and have grown throughout the years to now feature more than 100 building, remodeling, marketing and personal achievement categories. The SAMMY & Key awards are the premier awards of Chicago's residential building industry. To see more award winners, visit ChicagoRealEstateForum.com. For more information about mRELEVANCE, visit http://www.MarketingRELEVANCE.com.
About Marketing RELEVANCE: mRELEVANCE, LLC creates relevant marketing and communications that reach audiences with focused and strategic messages. Through technology and creative content, messages are delivered to target markets to encourage customer action and interaction.
With offices in Atlanta and Chicago, mRELEVANCE can connect your company with buyers and build relevant relationships nationwide. For more information, visit http://www.MarketingRELEVANCE.com, Like us on Facebook at http://www.Facebook.com/mRELEVANCE, Follow us on Twitter at @mRELEVANCE or call 770-383-3360 or 847-259-7312.