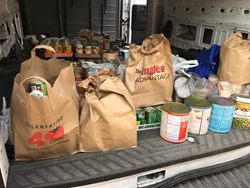 Asheville, NC (PRWEB) November 23, 2016
Aeroflow Healthcare started in 2001 as an oxygen supplier and has since grown to be a leading durable medical equipment provider in the Southeast and continues to grow nationwide.
Recently, Aeroflow employees hosted a successful canned food drive to support local MANNA Food Bank. The Aeroflow Healthcare staff donated almost 1,000 pounds of nonperishable goods for families in need.
"We want to show our community how much we care, and by donating so much food, we hope everyone in our area is able to have a warm meal this holiday season," said Casey Hite, CEO of Aeroflow Healthcare.
Since 1983, non-profit organization MANNA Food Bank has been serving Western North Carolina. MANNA relies on the support of volunteers and donors like Aeroflow Healthcare to serve the community and feed the hungry.
If you have any questions about Aeroflow Healthcare's donation and fundraising programs, or if you have interest in their services as a durable medical equipment supplier, you can reach them by calling (888) 345-1780 or visiting them online at http://www.aeroflowinc.com.