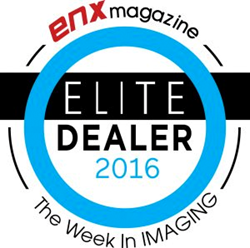 At Loffler we take pride in listening closely to our clients and learning what their needs are, and then building an innovative solution.
Minneapolis, MN (PRWEB) November 28, 2016
Loffler Companies has been selected as a 2016 Elite Dealer by The Week in Imaging, an online information and news publication for resellers of imaging technology, supplies, and services. This is the eighth consecutive year Loffler has earned this prestigious award and the ninth award in recent years.
The Elite Dealer Awards honor the best and the brightest in the imaging technology dealer community. This year's Elite Dealer honorees were chosen for their growth initiatives, innovative marketing programs, outstanding customer service, community involvement, vibrant and nurturing work place culture, and adaptability to an ever-changing market.
"At Loffler we take pride in listening closely to our clients and learning what their needs are, and then building an innovative solution," said Jim Loffler, President and CEO. "With the game-changing software solutions we offer, our attention to detail, our follow through from assessment to implementation and beyond, we are helping clients improve and grow their businesses with cost effective and productivity enhancing products and services."
'We're honored to introduce 2016 Elite Dealers and congratulate this year's Elite Dealers for their remarkable leadership and achievement in overcoming many challenges in the marketplace and leading their dealerships into the path of continual success," said Susan Neimes, managing editor of ENX Magazine and ENX The Week In Imaging.
The Week in Imaging isn't the only organization that's noticed Loffler. For the ninth consecutive year, Loffler Companies was honored to be named to the Inc. 500/5000 Fastest Growing Private Companies in America list. In addition to winning the prestigious Jefferson Award for Public Service, Loffler has been named a Star Tribune Top workplace for six years in a row, one of the "100 Best Places to Work in Minnesota" by Minnesota Business magazine for four consecutive years, and a 2016 Minneapolis St. Paul Business Journal Best Place to Work.
Loffler Companies, excelling under Jim Loffler's leadership since 1986, continues to be the leading business technology and services provider in Minnesota and Western Wisconsin. Recognized as the number one Minnesota Canon copier dealer, the top Konica Minolta dealer in Minnesota and Western Wisconsin, as well as an HP Elite Partner dealer, Loffler's 475 employees work hard every day to exceed the expectations of clients, partners and the community.
About Loffler Companies, Inc.
Loffler Companies is an independent professional services organization dedicated to providing innovative business technology and services serving the Twin Cities, St. Cloud and Central Minnesota area, and Western Wisconsin. Our offerings include Multi-Functional Copiers, Printers, Managed Print Services, IP Phones and Voice Recording, IT Solutions, Software and Workflow Technologies and On-site Managed Services for mailrooms and copy centers. For more information about Loffler Companies, visit us online at http://www.loffler.com, or contact us at 952-925-6800 or via email at information(at)loffler(dot)com.