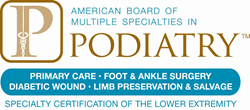 Your feet are attached to the rest of your body. That's an elementary idea, but it's very important, especially for people with diabetes.
New York, New York (PRWEB) November 23, 2016
November is American Diabetes Month, sponsored by the American Diabetes Association, which reports that "diabetes isn't just an American epidemic; it's a global crisis." Of the millions of patients worldwide dealing with diabetes and diabetes-related complications, fully one-third of them will suffer from skin conditions related to their disease—especially skin conditions affecting the feet. The American Board of Multiple Specialties in Podiatry (ABMSP) recommends a "November to Remember" skin check and assessment for all patients dealing with the multiple challenges of diabetes. By paying special attention to the skin of the feet in November, patients (with the help of ABMSP-certified podiatrists) can create an easy-to-follow and lifelong foot skin care regimen to ease the difficult symptoms of diabetes and prevent disease progression. Touching the feet every day, experts say, is a very important tactic in care of the diabetic foot.
November is the right time to re-double vigilant inspection of the skin of the feet, said Kenneth B. Rehm, D.P.M., Diplomate of the ABMSP. Colder temperatures and lower humidity can lead to dry, cracked, and peeling skin. What's more, autumn and winter bring boots, heavy shoes, and socks—meaning patients have a tendency to stop paying active attention to their feet. "Out of sight, out of mind," said Rehm. "But the 'November to Remember' push aims to get more patients to see their ABMSP board -certified podiatrists and to examine their own feet on a regular basis. ABMSP podiatrists are asking patients to sit down in November and make a commitment to themselves to look closely at the skin of their feet, which may be telling them quite a bit of information about the status of their diabetes symptoms."
Rehm is also the founder of Dr. Rehm Remedies, a line of foot care products designed to create and maintain foot health, especially in the diabetic. He explains that high glucose levels contribute to dry skin and a compromised ability to fight off harmful bacteria. Both of these conditions are bad news for diabetic feet. And diabetes-induced neuropathy, with its associated numbness, can make it difficult to feel pain, which is an important warning sign of potential skin problems. "Your feet are attached to the rest of your body," he said. "That's an elementary idea, but it's very important, especially for people with diabetes. November is the time: stop what you're doing, take a look at your feet, and make a mental commitment to maintain active, vigilant inspections of the skin of your feet the whole year through. Visit an ABMSP-certified podiatrist for more guidance and a complete assessment. You can be an active warrior in the fight against diabetes—through something as simple as paying attention to your feet."
About ABMSP
The American Board of Multiple Specialties in Podiatry was originally organized by podiatrists for the purpose of granting board certification to office-based and ambulatory foot surgeons. Incorporated in 1986 as the American Institute of Foot Medicine (AIFM), the name was changed in 1992 to better reflect its mission. The Board now offers certification to qualified podiatrists in all areas of podiatric practice: Primary Care in Podiatric Medicine; Foot and Ankle Surgery, both in a hospital setting and in outpatient facilities; Prevention and Treatment of Diabetic Foot Wounds and Foot Wear; and Limb Preservation and Salvage. The Board's certification examinations have been approved for reimbursement by The United States Department of Veterans Affairs as an educational benefit for eligible veterans. The American Board of Multiple Specialties in Podiatry is accredited by the American National Standards Institute (ANSI) under the ISO International Standards ANSI/ISO/IEC/17024:2003 for Accreditation for Bodies Operating Certification of Persons. For more information, visit http://www.abmsp.org.