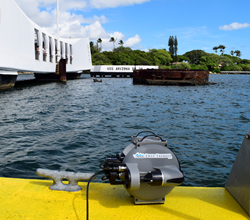 Experiencing the ship with Mr. Stratton watching live was absolutely one of the most emotional and touching experiences of my life
Kitchener, Ontario (PRWEB) November 25, 2016
Deep Trekker Inc. announced today that its portable remotely operating vehicle (ROV), the DTG2, was able to offer the first live view inside USS Arizona to one of the last remaining survivors from the ship. The Arizona was a U.S. battleship destroyed in the 1941 Japanese attack on Pearl Harbor.
Working in partnership with the National Parks Service (NPS) Submerged Resources Center, WWII Valor in the Pacific National Monument, Autodesk Inc. and E-trac Inc., Deep Trekker staff were on-site to support sonar surveying of the battleship using the larger Deep Trekker ROV, the DTX2. While onsite, the team was asked to perform the first live survey for Donald Stratton and his family who were in attendance. The viewing will be broadcast in the PBS documentary "Pearl Harbor – Into the Arizona," airing Wednesday, November 23 and December 7.
Donald Stratton, 94, served four years in the United States Navy and was on board the USS Arizona December 7, 1941, the day the Japanese attacked Pearl Harbor. Seventy-five years later, he returned to Pearl Harbor to witness the multi-faceted survey of the ship.
"Experiencing the ship with Mr. Stratton watching live was absolutely one of the most emotional and touching experiences of my life," explained Sam Macdonald, President of Deep Trekker Inc., who was piloting the DTG2 ROV for Mr. Stratton and Brett Seymore, deputy chief of the NPS Submerged Resources Center who was providing directions and commentary for the survey. "It was not part of our original plan during our time in Pearl Harbor, and we were extremely honored to have been asked to take part."
As a matter of dignity and respect to those for whom the USS Arizona is a final resting place, and the danger presented by the aging vessel to divers, NPS upholds a policy of no non-official diving and no human diver penetration into the battleship.
It was because of the portability plus ease of use and deployment that Deep Trekker DTG2 was able to assist in the project. Spherical, and about the size of a basketball, the underwater drone from was able to be deployed in just minutes, and maneuver through small and otherwise unreachable areas. The system has internal batteries, requiring no generators or additional equipment to operate the system, while still being robust enough to carry payloads of sediment and water sampling tools, and sonar systems.
"We learned a great deal about the needs of underwater archaeologists at Pearl Harbor and ways we can further push ROV technology to solve the many mysteries of maritime heritage shipwrecks overall," says Sam. "Simplicity in deployment continues to be one of our cornerstones as we push to bring new technologies to the market that will open up new worlds of discovery in the oceans."