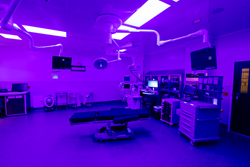 Our mission is to assist health systems across the nation tackle the CDC's call to action to control and eliminate hospital acquired infections.
Kenosha, Wisconsin (PRWEB) November 28, 2016
Kenall, manufacturer of Indigo-Clean™, a patented, continuous environmental disinfection technology, has been named a BizTimes Milwaukee 2016 Health Care Hero Award winner in the category of Corporate Achievement in Healthcare. The Award salutes the impact and the accomplishments of people and organizations that are making a positive difference in the community on the front lines of health care.
"We are thrilled and honored to have been chosen with this coveted award," said Cliff Yahnke, Director of Clinical Affairs for Indigo-Clean. "As an innovator in healthcare lighting and a leader in LED lighting, we are excited to be recognized for our efforts to help prevent healthcare-associated infections."
Indigo-Clean™:

Is clinically proven to reduce harmful bacteria, including MRSA and C.diff, up to 70 perfect beyond routine disinfection efforts.
Uses visible light to safely, automatically and continuously kill harmful bacteria, 24/7, in the air and on hard and soft surfaces.
Unlike other systems that require the room to be taken out of service, and/or activated by a trained operator, Indigo-Clean™ is safe and automatic which minimizes human error and room downtime.
Uses its continuous environmental disinfection technology to leave the room cleaner and safer for the patients and staff.
About 650,000 people developed infections after being admitted to U.S. hospitals in 2011, and 75,000 died, based on the most recent data from the Centers for Disease Control and Prevention. That would make hospital-acquired infections the nation's eighth leading cause of death, just behind diabetes and just ahead of flu and pneumonia.
"Our mission is to assist health systems across the nation tackle the CDC's call to action to control and eliminate hospital acquired infections," shared Yahnke. "Receiving the BizTimes Milwaukee Health Care Hero Award for our Indigo-Clean™ disinfecting lights showcases our commitment to hospitals throughout the nation to help keep their patients and staff safe."
About Kenall, manufacturer of Indigo-Clean™
Indigo-Clean™ is an affiliate of Kenall Manufacturing, which has earned a reputation for lighting challenging applications. Since its inception in 1963, Kenall has been known for superior quality, exceptional value, and durable solutions, and it is proud to provide sealed lighting for containment or clean spaces, security lighting for detention facilities, and specialized healthcare and transportation applications. Kenall products are designed and manufactured in the USA and meet the guidelines established under the Buy American Act and the North American Free Trade Agreement. For additional information on Indigo-Clean™, visit our website at http://www.indigo-clean.com or contact us directly at 262-891-9200.
# # #