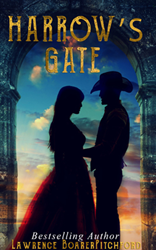 I want you to find refuge between the covers of Harrow's Gate.
Sacramento, California (PRWEB) November 25, 2016
The author Lawrence BoarerPitchford's breakout novel Harrow's Gate is for everyone! If you love action and adventure stories, and science fiction and steampunk, Harrow's Gate is your book. The author stated, "As Black Friday madness sweeps the retail world, and the holidays bring family from far and near, there will be a time when a quiet moment will be relished. Sit in the living room after feasting, and as the holiday meal settles, open your e-reader and escape the stress and anxiety for a little while as you slip into action, adventure, and romance with my new novel Harrow's Gate!"
"I love the holidays," says Lawrence. "But, I know how stressful it can be – seeing relatives you haven't seen for a long time. I have a large family, and we used to meet on a twenty-six-acre ranch for Thanksgiving. There would be eating, drinking, games and laughter – but when all were exhausted, it was a blessing to slip off into a quiet room, and spend a few hours lost in a book. That's why my book is only 99 cents for the holidays - because I want you to find refuge between the covers of Harrow's Gate."
The gripping tale centers around a young man and woman who are thrust into war, and must flee for their lives. Hot on their heels are a villainous band of cutthroats with only war and conquest on their minds. But, in this peril a love will grow, and become a raging blaze that will consume not only their lives, but their enemy's ability to contain them.
The author stated, "If you buy and read my book, take a moment to go to my web site, click the Contacts link, and add in your information. In the subject line add a quote from Chapter 8 of Harrow's gate, press "send email" and I'll add your name to a hat. On Cyber Monday, I'll choose five names from the hat, and those five folks will win a $5.00 Amazon gift card. Not bad – spending 99 Cents on a great read and getting back $5.00."
Lawrence BoarerPitchford is the author of such works as Thadius, The Lantern of Dern Blackhammer, Sawbones, In the World of Hyboria (Book 1 Grim Determination and Book 2 The Ties that Bind), as well as the irreverent and cheeky novel Tales of Mad Cows and Brothels.
Lawrence works and lives in the Sacramento region of California. His work can be found on Amazon Books, Smashwords, Barnes & Nobles, and iBooks. Take a moment to explore BoarerPitchford.com and visit the author on Facebook, Twitter, and Goodreads