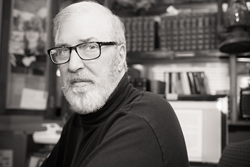 TRUMP followed the book. Sanders could have beaten him.
Dallas, Texas (PRWEB) November 27, 2016
Jerry Antil is re-releasing his book, THE LONG STEM IS IN THE LOBBY as the presidential election results have proven the book's look at marketing strategy valid beyond any shadow of doubt.
The seed of the book's premise was germinated during the puberty of American television in the 1960s. It was then when a young Jerry Antil convinced local television station owners and general managers to give him favorable advertising rates so he could experiment with commercial advertising placement. And experiment he did. He ultimately created a television (advertising spot) buying formula of piling up the exact amount of gross rating points to appear within a predetermined measurement of time. A Gross Rating Point is a count of the number of times one viewer will see the message within a specific window of time. Antil's media buying formula worked so well it became unstoppable in building brand recognition. Other advertisers had built their brand by a similar means but it was Antil who first studied the cause and effects of his media buying formula with such precision he could write its exact formula. Using the formula, he could change the impression of AAMCO an automotive transmission shop chain from a consumer's perception of the greasy back alley and put them on Main Streets USA without ever buying one national television commercial. He used his formula in local stations in local markets to distribute his message. Antil used the savings the formula caused to hire the glamour and diamond studded Zsa Zsa Gabor as spokeswoman and built AAMCO to the fastest growing franchise company in the U.S. in the 60s. He then took a failing Bonanza $1.19 steakhouse chain with $15 million in annual sales to $300 million in sales in three years.
After writing the formula Antil wrote the book.
"The formula still works," says Antil. "It's all in my book - The Long Stem is in the Lobby - virtually predicting Donald Trump's success." The book was named a must read by Cornell University Planning Office; considered top ten advertising books of all time by marketing legend, Jeffrey Feinman and named a Finalist for Book of the Year - Nonfiction Humor.
Years before writing the book, Antil observed a pattern of a man, Donald Trump. In 2010 Antil wrote a blog simply titled - Donald Trump "Gets It" – If Only America Would Follow Suit!
http://jeromemarkantil.com/blog/donald-trump-gets-it-if-only-america-would-follow-suit/