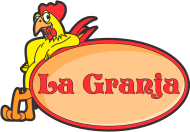 Apopka, FL (PRWEB) November 25, 2016
One of the almost 50 locations opened in South Florida by La Granja Restaurants includes the one at 3352 East Semoran Boulevard, Apopka, FL 32703. This location also features a drive-thru for the convenience of their customers.
La Granja Apopka is open until 10 p.m. on Black Friday.
La Granja is famous for their Pollo a la Brasa recipe, which is the Peruvian version of rotisserie chicken, combined with special spices. It is available in quarter, half and whole chicken, served with rice and beans.
Besides their delicious Pollo a la Brasa, La Granja also offers the following items on their menus:

Chicken fried rice, chicken soup and chicken salad.
Pork platters. Choose from ½ or 1 pound of pork.
Steak platters. These are served grilled or sautéed, or combined with shrimp and scallops.
Seafood platters. These include their special Criollo fish, as well as spicy and garlic fish. They also have specialties like fried fish chunks, and seafood rice.
Fajitas. Choose from their delicious chicken or steak fajitas, served with rice, beans, 3 tortillas, sour cream, shredded cheese and guacamole.
Sandwiches. Choose from chicken, pork, steak, hamburger or fish, all served with French fries.
La Granja Restaurants was established in 1993 on the island of Aruba. They expanded in 1995 to open many locations in Florida, including Apopka, Palm Beach, Miami, Orlando, Winter Park, Boynton Beach, Boca Raton and more. All locations offer the same delicious cuisine in a friendly family-oriented environment.
For further information and to search for the nearest location, visit https://www.lagranjarestaurants.com/en/.
Additional contact information:
La Granja Corporate Office
3907 NW 49th Street Tamarac, Fl 33309
Phone: (954) 968-7988
info(at)lagranjarestaurants(dot)com