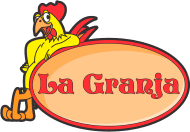 Doral, Florida (PRWEB) November 25, 2016
Kissimmee, FL, November 2016 – One of La Granja Restaurants' newest locations is in Doral at 10355 NW 41st St, Doral, FL 33178. Just like the all the other La Granja restaurants (almost 50 to date), this location serves fresh, fast Peruvian cuisine at an affordable price.
La Granja Doral is open until 9:00 p.m. this evening for Black Friday.
Their signature "Pollo a la Brasa", or Peruvian Rotisserie Chicken, can be ordered as a sandwich, meal or platter. Other delicious menu items include steak, pork and seafood platters, sandwiches, sides like beans and rice, as well as tasty desserts. All dishes are cooked in the unique Peruvian style for which La Granja is famous.
Customers can choose to dine in or take out a meal to enjoy at home. La Granja also offers family meals that serve four or more, all at a very affordable price.
La Granja Restaurants has won numerous awards since they began opening restaurants in Florida in 1995. The owners' philosophy regarding their success is to combine great teamwork, outstanding customer service, a positive attitude and hard work. They value their employees, customers and achievements.
La Granja is very involved in South Florida community issues, partnering with grass roots youth organizations like ASPIRA, honoring veterans, and offering scholarships to Florida residents of Hispanic and Latino descent to Palm Beach Community College.
For further information and to search for the nearest location, visit https://www.lagranjarestaurants.com/en/
Additional contact information:
La Granja Corporate Office
3907 NW 49th Street Tamarac, Fl 33309
Phone: (954) 968-7988
info(at)lagranjarestaurants(dot)com