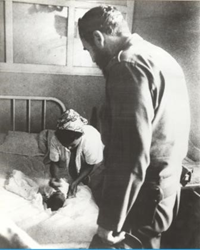 We weren't offering money; we were offering [doctors] to help save lives, and that offer stands today and tomorrow, and represents Cuba's attitude towards any of the world's peoples.--Fidel Castro on Hurricane Katrina, 2005
Oakland, CA (PRWEB) November 26, 2016
Fidel Castro is gone, but his name still arouses passions over 60 years after his first appearance on the world political stage as a young rebel leader. In the debate swirling around his legacy, of two things there can be no doubt: while he was Cuban, he was also bigger than Cuba, the last of the larger-than-life giants of 20th century leadership.
And just as important, he was the driving force and main architect of universal health care in Cuba, a public health system responsible for making Cubans some of the healthiest people in the world. Built upon the notion of the right to health, he first outlined this vision in the program of the movement he led to victory on January 1, 1959.
As a result of his leadership, the new government dedicated itself first to health and education for all. In 1960-61, newly graduated doctors, backpacks in hand, headed for the countryside and mountains to take health care to people there for the first time, which coincided with a massive Literacy Campaign that taught some 700,000 Cubans to read and write.
Over the years, President Castro took an abiding interest in health and was at the forefront of promoting advances in health care, research and medical education: establishing rural hospitals and a national network of hundreds of community-based clinics, making prevention a cornerstone of training and service; generating extraordinary investments in biotechnology to develop novel vaccines and cancer therapies, and specialized services for Cuban newborns with heart disease. Finally, he considered the most significant "revolution within the revolution" to be the creation in the 1980s of the family doctor-and-nurse program, posting their offices on every block and farmland in Cuba.
The outcomes of these efforts were not achieved by one man, but by 500,000 Cuban health workers, who were able to count on health as a government priority. Together, they faced dengue and neuropathy epidemics; and the scarcity of medicines, including for HIV-AIDS patients, after the collapse of the socialist bloc and tightening of the US embargo on Cuba in the 1990s. Their dedication has won a healthier nation.
Under Fidel Castro's leadership, Cuban health professionals also began volunteering to serve abroad as early as 1960, responders to earthquake-devastated Chile; and in 1963, the first long-term service was offered by doctors sent to newly independent Algeria.
Despite invasions and attempts on his own life, Fidel Castro continually demonstrated an attitude of openness towards the US people. He offered thousands of specially trained Cuban doctors to help New Orleans recover after Hurricane Katrina, a medical team named after Brooklyn-born Henry Reeve, a hero of Cuba's independence war against Spain. He opened the scholarship doors of the Latin American School of Medicine to young, low-income US students, after a request from the Congressional Black Caucus. In his words, the school's goal: "The doctors trained here should be the kind needed [by people] in the countryside, villages, marginalized neighborhoods and cities in the Third World. And also in immensely wealthy countries, such as the United States, where millions of African-Americans, Native Americans, Latino immigrants, Haitians and others, lack health care." Since its opening in 1999, the Latin American School of Medicine has enrolled over 200 US students and graduated some 30,000 physicians from 100+ countries.
A MEDICC group of public health and medical educators was the last US delegation to meet with President Fidel Castro before his illness in July, 2006. As was customary, the gathering lasted for the whole night. But at the heart of our conversations was not global politics…but rather health, cochlear implants for blind-deaf Cuban children, a call to the Cuban medical team in East Timor, even the potential for US-Cuba cooperation in health and medicine. For 12 hours, health was at the top of our mutual agenda.
"We can only hope that, going forward, the US-Cuba cooperation in health envisioned during that long night—and later ratified by Presidents Barack Obama and Raúl Castro—can endure and expand, to benefit people in both our countries," said Dr. Peter G. Bourne, Chair, MEDICC Board of Directors.
"To the Cuban people, to Fidel Castro's family, we extend our heartfelt condolences and appreciation for his life-long dedication to health worldwide," stated Dr. Nassim Assefi, MEDICC Executive Director.
About MEDICC
Since 1997, MEDICC has worked to disseminate the approaches and outcomes of Cuba's public health system, as a contribution to the global quest for universal health and greater health equity. MEDICC facilitates mutual learning opportunities in several ways: its documentary film ¡Salud!; the open-access, MEDLINE-indexed English journal, MEDICC Review, that publishes research by Cuban and other scholars from the Global South whose work touches on health equity; insightful trips to Cuba for US health policymakers, educators and practitioners; a national network of US communities whose leaders have been inspired to innovate for better health, thanks to their MEDICC-organized experiences in Cuba; and by serving as an institutional bridge-builder between US, Cuban and global health institutions and organizations. MEDICC also assists US students and graduates of Havana's Latin American Medical School to return home to practice in provider-shortage areas, and supports US policies that facilitate greater health cooperation with Cuba for the benefit of people in both countries.