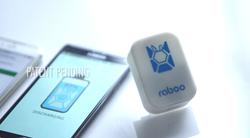 Cupertino, CA (PRWEB) November 29, 2016
Raboo Technologies to Unveil World's First Smart Charger at Enterprise Mobility Exchange 2016 in Las Vegas
The Raboo Smart Charger from Raboo Technologies was Officially Launched at the Technology Super Conference Enterprise Mobility Exchange in Las Vegas from November 14th to 16th 2016.
Today, Raboo Technologies, the inventors of the world's first smart charger, has confirmed that its landmark Raboo Charger will be officially unveiled at the major Enterprise Mobility Exchange technology industry event at Caesars Palace in Las Vegas from Monday, November 14th to Wednesday to November 16th.
As one of only three start-ups chosen to present at the international event, the brand will demonstrate precisely how the Charger eliminates catastrophic current battery life and safety issues in the global marketplace such as those experienced by unsatisfied Samsung mobile device customers. It achieves this through proprietary Printed Circuit Board (PCB) hardware and software in the form of free to download iOS and Android apps.
Following the development of a series of successful prototypes from the dedicated Research and Development team and with final production imminent, Raboo Technologies has attracted unprecedented levels of interest this year from industry professionals and commentators. The launch of the first smart charger ever made will mark a significant milestone in the evolution of the robust new technology and mobile sectors in the United States and abroad.
Billed as the smartest smart device charger ever created, the environmentally-friendly Raboo Charger is intelligent, reliable and fully adaptable to the needs of its users. Unlike standard charges, the smart charger interactively communicates with connected devices via Bluetooth.
Enterprise Mobility Exchange
The prestigious Enterprise Mobility Exchange 2016 conference will attract global industry giants from companies like Intel and Verizon. The key topics of importance up for discussion include; Mobile Devices, User Experience, Digital Security, DevOps, Advanced Analytics, Emerging Technologies and Internet of Things (IoT).
"Raboo Smart Charging Technology is a game changer in the industry. With limitedinnovation in the hardware industry, users would want to invest more in software. Therefore, they require a longer life for their devices. Hence, this technology will providelonger life as it controls the charging of the batteries," asserted Ghaith Abu Eideh, MBA, Inventor and Chief Executive Officer (CEO), Raboo Technologies.
"By eliminating the effect of trickle charging, overheating and overcharging - the batterylife will be even longer and the user will be able to enjoy the device for much longer." "After the much-anticipated launch of our first product, the Raboo Smart charger, we'll continue to develop this technology so it can effectively be used in a wide variety of other devices like laptops or even the recharging of popular drone batteries," expressed Maher Abu Eideh, B.Sc., Co-Founder and Chief Operating Officer (COO), Raboo Technologies. "Our long-held wish is that the industry will possess this profound technological edgeand have it embedded in each and every charger which is used to quickly replenish any type of rechargeable battery unit. The future of Raboo looks bright."
Raboo Technologies has its global headquarters in the iconic technology district of Cupertino, California. Its first product to market, the Raboo Charger features; state-ofthe-art proprietary smart charging technology, IoT connectivity, data harvesting and data analytics which can also be incorporated into other battery powered devices like laptops and wearables, environmentally-friendly voltage control that automatically reduces Carbon Dioxide emissions and the highest standards of reliability and durability following rigorous testing and world-class coding.
About Raboo Technologies:
Since 2015, Raboo Technologies has been researching and developing groundbreaking new ways for the world to experience smarter mobile solutions with your needs in mind. See us at Enterprise Mobility Exchange 2016 in Las Vegas from November 14th to 16th where the Raboo Charger, the world's first every smart charger, will be launched to the world.
Discover more about the future of smart charging today by visiting: http://www.rabootec.com/
Download our app for free on iOS: https://itunes.apple.com/us/app/raboo-charger/id1080202158
Download our app for free on Android: https://play.google.com/store/apps/details?id=bluetoothlesmartcharger.ramk.com.blesmartcharger
Join our new Social Media communities:
https://www.facebook.com/rabootec
https://twitter.com/rabootec
https://www.instagram.com/rabootechnologies/
Media contact information:
Maher Abu Eideh.
Email: Info(at)RabooTec(dot)com
Tel: (408) 418-8983.